The Dhaka bourse on Sunday closed marginally lower due to price corrections witnessed by the major sectors.
On the day, most of the major sectors declined marginally on the Dhaka Stock Exchange (DSE).
The large cap companies such as Grameenphone, MJL Bangladesh and British American Tobacco Bangladesh Company drag the broad index into red.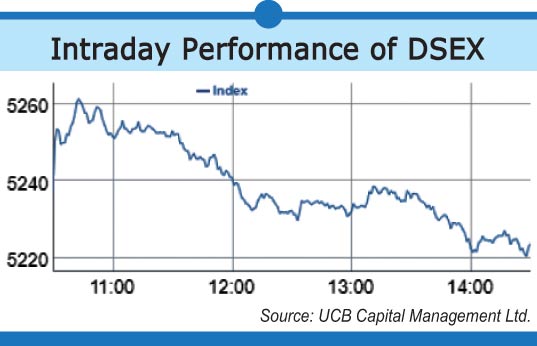 The day's turnover also declined marginally following investors' less participation in share trading.
The market opened the Sunday's session positively and the DSE broad index DSEX advanced 25 points within first 13 minutes.
Later, the DSEX continued its declining trend till mid session amid price corrections witnessed by the major sectors.
Before closing the session, a weak recovery stance was observed but the DSEX failed to recover the initial loss.
Finally, the DSEX settled at 5223.72 points with a marginal loss of 0.25 per cent or 13.12 points.
The shariah based index DSES declined 0.25 per cent or 3.11 points to close at 1203.73 points.
The DS30 index comprising blue chip securities closed at 1841.76 points with a loss of 0.44 per cent or 8.24 points.
"The price correction of some large cap stocks like GP, BATBC and UPGDCL were the main constituents of the day's market correction," said a market review of EBL Securities.
Of the large cap companies, the share price of the Grameenphone declined 1.03 per cent or Tk 3.30 to close at Tk 316.80 each.
The share price of MJL Bangladesh closed at Tk 89.10 each with a loss of 2.10 per cent or Tk 1.90.
The share price of British American Tobacco Bangladesh Company declined 1.3 per cent or Tk 15.60 to close at Tk 1189.80 each.
Of 354 issues traded, 105 advanced, 214 declined and 35 were unchanged on the premier bourse DSE.
At the end of the session, the turnover stood at above Tk 4.68 billion which was 2.08 per cent less than the turnover of the previous session.
Of the major sectors which witnessed price correction, bank declined 0.2 per cent, fuel & power 0.6 per cent, mutual fund 2.20 per cent, pharmaceuticals & chemicals 0.2 per cent, telecommunication 0.8 per cent and textile 0.8 per cent.
Of the sectors which advanced, jute witnessed 0.9 per cent price appreciation, services & real estate 0.8 per cent and travel & leisure 1.0 per cent.
Investors' participation was concentrated mostly on pharmaceuticals & chemicals which grabbed 19.50 per cent of the market turnover followed by engineering 15.80 per cent, textile 13.10 per cent and fuel & power 8.60 per cent.
United Power Generation & Distribution Company topped the turnover chart with a value of Tk 178 million followed by Orion Infusion Tk 165 million, Silco Pharmaceuticals Tk 159 million, Beacon Pharmaceuticals Tk 130 million, and KDS Accessories Tk 125 million.
KDS Accessories was the number one gainer with a rise of 9.98 per cent to close at Tk 63.90 each.
SEML IBBL Shariah Fund was the worst loser after declining 9.90 per cent or Tk Tk 1.0 to close at Tk 9.10 each.
On the Chittagong Stock Exchange (CSE), the broad index CASPI declined 0.38 per cent or 62.27 points to close at 15977.78 points.
Of 257 issues traded, 69 advanced, 155 declined and 33 were unchanged.
The turnover stood at above Tk 431.51 million on the port city bourse CSE.
mufazzal.fe@gmail.com