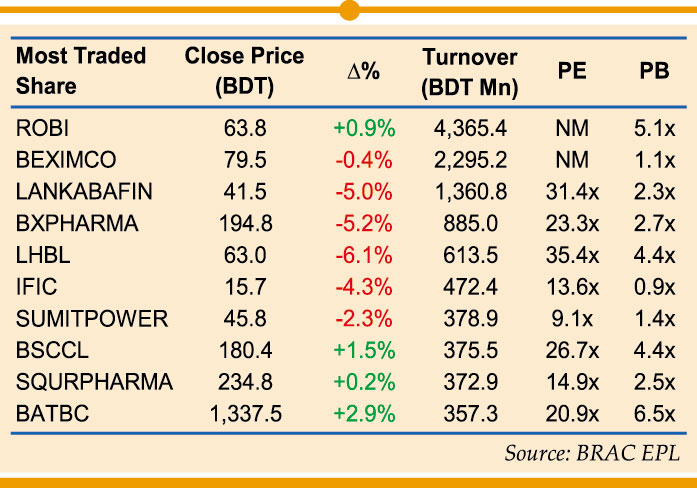 Dhaka bourse on Wednesday closed the session with a sharp loss in broad index as investors opted to book profit following the rise of previous three consecutive sessions.
On the day, some companies which recently played pivotal role behind the upward trend of index and turnover witnessed price corrections.
The companies are Beximco, Beximco Pharmaceuticals and IFIC Bank, among others.
The share price of Robi Axiata, however, advanced marginally on the Dhaka Stock Exchange (DSE).
The bourse opened the day's session positively and after twenty minutes, the DSEX, the broad index of Dhaka Stock Exchange (DSE) failed to sustain and displayed ups and downs for two hours.
After the mid-session, the core index lost more points and closed the session with a sharp loss.
Finally, the DSEX settled at 5770 points with a loss of 1.55 per cent or 91.01 points.
The shariah based index DSES declined 1.59 per cent or 21.03 points to close at 1301.63 points.
The DS30 index comprising blue chip securities went down by 1.59 per cent or 35.10 points to close at 2159.88 points.
The market operators said many investors booked profit amid the regulatory stance of conducting investigation into the 'unusual' price hike observed in any listed securities.
"Before the Wednesday's session, there was no seller in some issues which regularly secured position in the chart of top gainers and turnover leaders. Many investors of those issues sold shares on Wednesday," said a senior official of a leading brokerage firm.
Of the companies witnessed rally recently, the share price of Beximco declined 0.38 per cent or Tk 0.3 to close at Tk 79.50 each on Wednesday.
The share price of Beximco Pharmaceuticals also declined 5.16 per cent or Tk 10.60 to close at Tk 194.80 each.
The share price of IFIC Bank also went down by 4.27 per cent or Tk 0.7 to close at Tk 15.70 each.
According to a market review of International Leasing Securities, the broad index declined sharply as the investors preferred to book some quick gain.
"The market witnessed heavy sell pressure which pushed down the benchmark index on Wednesday. Many optimistic investors, however, took position in food, engineering and mutual fund sectors," said the International Leasing Securities.
Of 360 issues traded, 56 advanced, 249 declined and 55 were unchanged on Wednesday on the premier bourse DSE.
The DSE featured a turnover of above Tk 21.08 billion which was 6.34 per cent higher than that of previous session.
Of total turnover, Tk 168 million came from transactions executed in the block board.
Of the major sectors which witnessed correction, bank declined 0.9 per cent, financial institutions 4.0 per cent, fuel & power 1.8 per cent, general insurance 2.9 per cent, pharmaceuticals & chemicals 1.1 per cent and telecommunication 0.5 per cent.
Of the sectors which witnessed price appreciation, engineering advanced 1.0 per cent, mutual fund 0.7 per cent, and food & allied 2.0 per cent.
Robi Axiata topped the scrip-wise turnover chart with a value of Tk 4.37 billion followed Beximco Tk 2.30 billion, LankaBangla Finance Tk 1.36 billion, Beximco Pharmaceuticals Tk 884 million and LafargeHolcim Bangladesh Tk 613 million.
AIBL 1st Islamic Mutual Fund was the number one gainer with a rise of 9.09 per cent or Tk 0.9 to close at Tk 10.80 each.
Meghna Condensed Milk Industries was the worst loser after declining 8.80 per cent or Tk 1.10 to close at Tk 11.30 each.
All indices of the Chittagong Stock Exchange (CSE) on Wednesday witnessed sharp loss.
The benchmark index CASPI declined 1.45 per cent or 249.06 points to close at 16840.48 points.
Of 282 issues traded, 51 advanced, 198 declined, and 33 were unchanged on the port city bourse CSE which featured a turnbover of Tk 1.42 billion.