---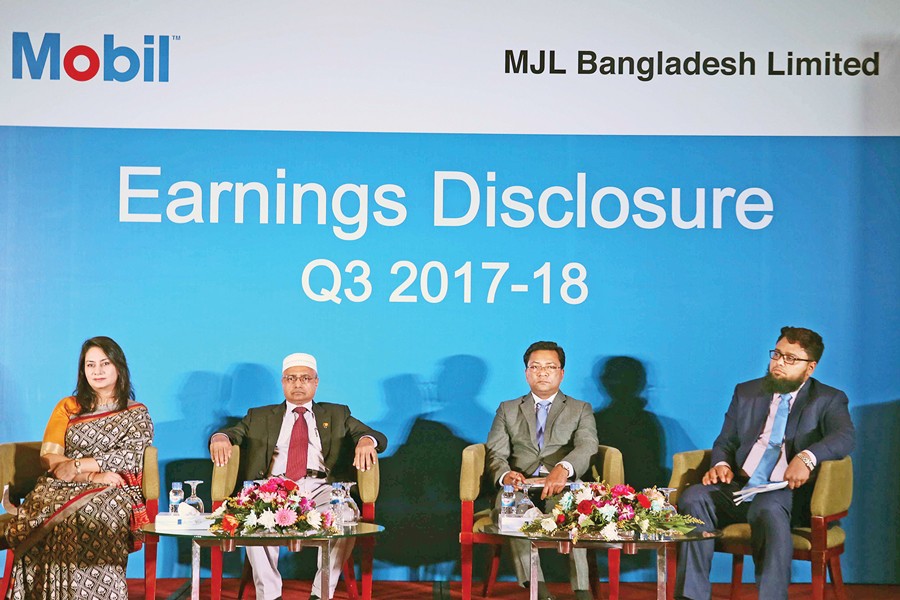 (From L-R) MJL Bangladesh Limited Head of HR and Company Secretary Nagma Ahamed, CEO Mukul Hossain, Head of Finance & Planning Sabbir Ahmed, FCA, and Senior Finance Controller Rahmatul Mujeeb, FCA, seen on the dais at a programme organised in the capital recently to disclose the Q3 earnings
MJL Bangladesh Limited (MJL) has launched multi-compartment delivery truck for the first time in Bangladesh to deliver lubricating oil to its industrial customers, according to a recent statement issued by the company after disclosing the Q3 earnings for 2017-18.
"Being the leading lubricant solution provider of Bangladesh, this shows our commitment towards providing efficiency-enhancing solutions to our customers," M. Mukul Hossain, Chief Executive Officer of the company said.
The company has signed an agreement for taking over 53 bighas of land including an industrial complex located at Murapara, Rupganj, Narayangonj with a total consideration value of Tk 970 million for its future expansion.
The complex located near Shitalakshya river is equipped with gas connection with a draft of around 6 to 8 metres.
"This will surely keep us ahead of others while making future expansion of MJL and its subsidiaries," said Mr. Hossain.
The company has invested an amount of US$ 9.375 million in its subsidiary, Omera Petroleum Limited (OPL) against issuance of right shares by OPL.
OPL will make use of the funds toward expansion of its LPG project that includes but not limited to purchasing cylinders, storage equipments, filling machines, barges, road tankers and repayment of high cost borrowing.
"We will be able to reap the benefits out of it once the expansion is made", Mr. Hossain added.
"Omera Gas One Limited (OGL), a joint venture between OPL & Japanese top-ranking energy giant, Saisan Co. Ltd has installed its maiden autogas station in March 2018," according to the latest quarterly update of the company.
OGL has a plan to install 30 autogas stations throughout the country in 2018 and it will reach to 200 by the year 2020.
Sabbir Ahmed, FCA, Head of Finance & Planning of MJL said that the consolidated net revenue of MJL surged by 21.59 per cent year-on-year to Tk 4,385 million in third quarter of 2017-18. However, the net revenue of MJL on solo basis declined by 1.46 per cent year-on-year to Tk 2,136 million in the same reporting period.
The consolidated gross profit was recorded at Tk 1,301 million, up by 29.63 per cent compared to Tk 1,004 million in third quarter of 2016-17 due to 42.81 per cent revenue growth of OPL. The gross profit on solo basis surged by 0.35 per cent year-on-year to Tk 878 million in third quarter of 2017-18.
The consolidated gross profit margin stands at 29.68 per cent, while it was 41.13 per cent in case of solo basis.
"The lesser pace of acceleration in cost of revenue compared to revenue amid increasing pricing of raw materials and capricious foreign exchange market is commendable indeed," said Mr. Ahmed.
"To make such hefty gross profit absorbing those stuns is a testimony of the efficiency and dedication of our human resources showed in a challenging environment," added Mr. Ahmed.