---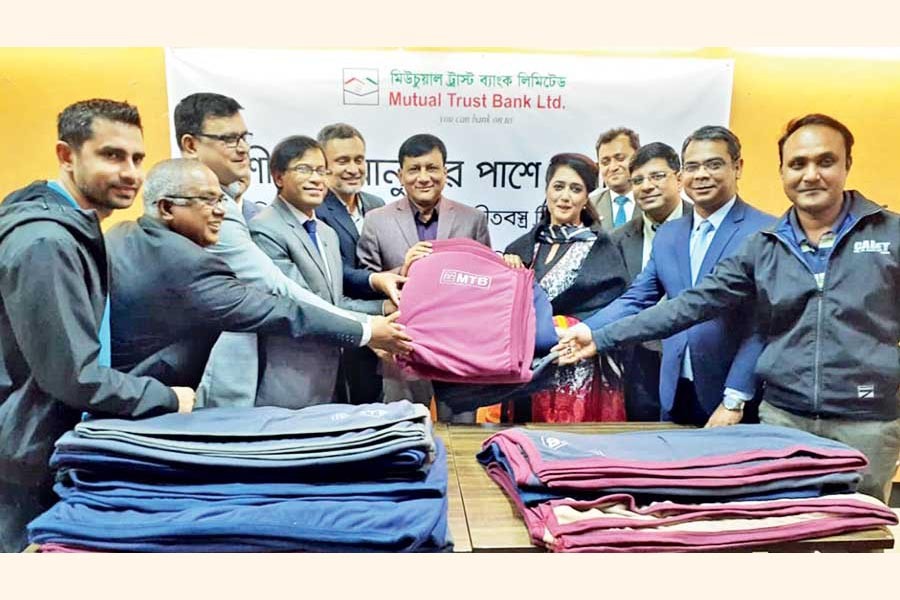 Group Capt Muhammad Alamgir, acsc (Retd), President, Cadet College Club Limited (CCCL), receiving a sample of blankets from Amitav Kaiser, Head of Infrastructure Division, Mutual Trust Bank Limited (MTB), at a simple ceremony, at Cadet College Club Limited in the city recently
Mutual Trust Bank Limited (MTB), as part of its corporate social responsibility (CSR) initiatives, has recently donated blankets for distribution amongst the cold-affected people of different regions of the country through the Cadet College Club authorities, said a statement.
Group Capt Muhammad Alamgir, acsc (Retd), President, Cadet College Club Limited (CCCL), received a sample of blankets from Amitav Kaiser, Head of Infrastructure Division, MTB at a simple ceremony, held at Cadet College Club Limited in the city.
M Musleh Uz Zaman, Vice President and Jashim Mohammad Al-Amin, Secretary General of Cadet College Club Limited (CCCL) and Md Ehethesham Rahman, Head of Structured Finance Unit, and Samia Chowdhury, Deputy Head, Group Communications of MTB along with other senior officials of both the organisations were also present at the occasion, the statement added.
---
---
---