---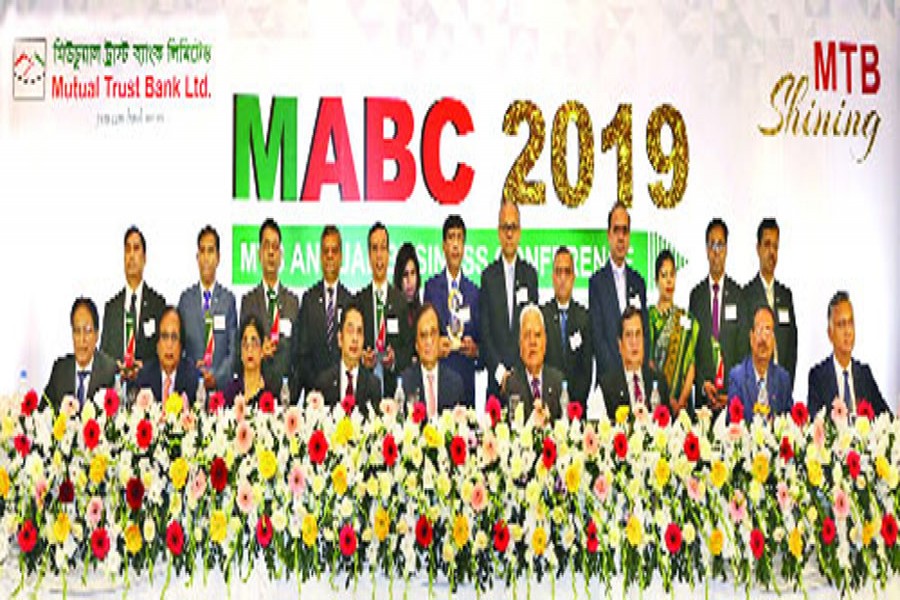 MTB Chairman, Md. Hedayetullah, Founding Chairman, Syed Manzur Elahi, Vice Chairman, Khwaja Nargis Hossain, MTB Directors, Rashed A. Chowdhury, M A Rouf JP, Md. Abdul Malek and Md. Manirul Islam, the Bank's Managing Director & CEO, Anis A. Khan seen along with the recipients of various awards for outstanding performance in 2018 in different categories, at the MTB Annual Business Conference 2019
Mutual Trust Bank Ltd. (MTB) held its Annual Business Conference 2019 (MABC 2019) on Saturday at a local hotel in Dhaka.
The programme was attended by MTB Chairman, Md. Hedayetullah, Founding Chairman, Syed Manzur Elahi, Vice Chairman, Khwaja Nargis Hossain, MTB Directors, Rashed A. Chowdhury, M A Rouf JP, Md. Abdul Malek and Md. Manirul Islam, the Bank's Managing Director & CEO, Anis A. Khan and Deputy Managing Directors, Syed Rafiqul Haq, Goutam Prosad Das and Tarek Reaz Khan attended the day-long session. Divisional and Departmental Heads, Managers of all MTB branches and Chief Executive Officers of two subsidiary companies - MTB Securities Ltd. and MTB Capital Ltd. were present at the MABC 2019. The conference discussed strategies and plans on how the bank will reach its desired targets in 2019, considering the previous year's achievements and current year's economic scenario and market conditions.
"MTB Shining", the theme for 2019, was unveiled at the conference. The MTB Chairman, Md. Hedayetullah appreciated the hard work put in by all MTBians for significant progress in the year 2018 in terms of the growing network, infrastructure, products and services. The MTB Chairman congratulated the Management and the MTBians for keeping the trust of the customers by ensuring a successful closing of the financial year 2018. Anis A. Khan, MTB Managing Director & CEO thanked all MTBians for taking the leap in becoming one of the best governed and highly equipped banks in the country. He emphasizes on reinforcing the commitments and realizing the bank's expanded capabilities in achieving the corporate vision - MTB3V.
He also presented highlights of the bank's performance and direction for the new year, said a statement.
---
---
---
---