---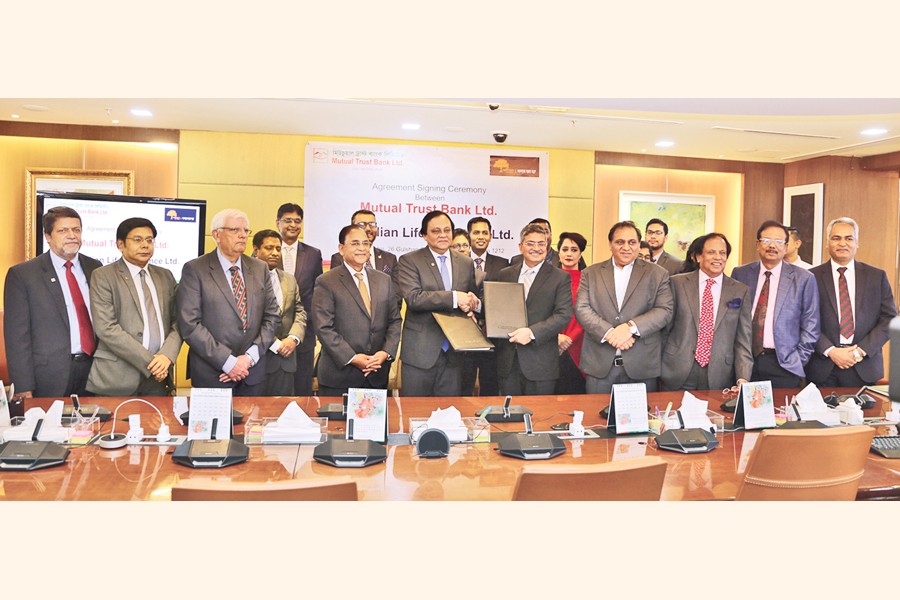 Mutual Trust Bank Limited (MTB) has recently signed an agreement with Guardian Life Insurance Limited at a simple ceremony held at MTB Centre, the bank's Corporate Head Office, Gulshan 1 in the city. M M Monirul Alam, Managing Director & CEO, Guardian Life Insurance Limited, Anis A. Khan, Managing Director & CEO, Mutual Trust Bank Limited, Tapan Chowdhury, Chief Patron and MTB Directors Dr. Arif Dowla, M A Rouf JP, and Md. Abdul Malek seen
Mutual Trust Bank Limited (MTB) has recently signed an agreement with Guardian Life Insurance Limited at a simple ceremony held at MTB Centre, the bank's Corporate Head Office, Gulshan 1 in the city.
Under this agreement, the employees of MTB along with their dependent family members will be able to claim insurance coverage and facilities from Guardian Life Insurance Limited, said a statement.
M M Monirul Alam, Managing Director & CEO, Guardian Life Insurance Limited and Anis A. Khan, Managing Director & CEO, Mutual Trust Bank Limited signed the agreement on behalf of their respective organisations. Tapan Chowdhury, Chief Patron, David Griffiths, Director, Md. Azimul Haque, Head of Group Insurance, Ahmed Istiaque Mahmud, Head of Bancassurance, Rubayat Saleheen, Head of Marketing & Communication from Guardian Life Insurance Limited and MTB Directors Dr. Arif Dowla, M A Rouf JP, and Md. Abdul Malek, Acting Group Head of HR, Marcus C. Gomes, and Azam Khan, Group Chief Communications Officer from Mutual Trust Bank Limited along with other senior officials from both the organisations were also present on the occasion.
---
---
---
---