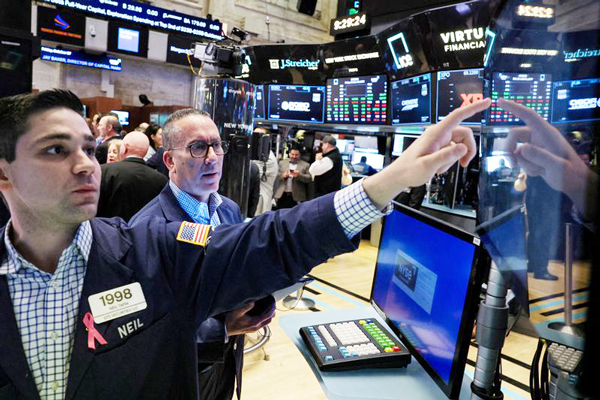 Futures tracking the Nasdaq edged higher on Monday as Microsoft gained on news that former OpenAI head Sam Altman will join the software giant, while investors awaited more clues regarding when the Federal Reserve might begin cutting interest rates, reports Reuters.
Microsoft's shares advanced 2 per cent before the bell after CEO Satya Nadella said Altman is set to join the company to lead a new advanced AI research team.
Other megacap stocks were mixed, with Nvidia edging 0.6 per cent higher, while Alphabet slipped 0.8 per cent.
The three main US stock indexes have staged a stellar rebound in November, posting gains for the third week in a row on Friday as evidence of easing US inflation supported bets that the Fed was done raising interest rates.
The benchmark S&P 500 is now only 2 per cent away from its highest level this year reached in July.
"While a 'wait and see mood' has descended, confidence is still quietly bubbling that interest rate cuts could be on the horizon," Susannah Streeter, head of money and markets at Hargreaves Lansdown wrote in a note.
"Concerns that there could be another grinch-like hike from the Fed in December have retreated and more bets are being placed that a reduction could come in the Spring."
Traders have nearly fully priced in the likelihood that the Fed will keep interest rates unchanged in December, with odds of an at least 25 basis point rate cut in May standing at about 60 per cent, according to the CME Group's FedWatch tool.
A number of catalysts will set the tone for markets this week.
Chip designer Nvidia is due to report quarterly results on Tuesday, wrapping up the third-quarter earnings season for the "Magnificent Seven" group of megacap companies.
The Fed is expected to issue minutes of its November meeting on Tuesday, which will be parsed for clues on the direction of US interest rates. Black Friday sales will provide a gauge on the state of US consumer spending.
At 6:56 a.m. ET, Dow e-minis were up 18 points, or 0.05 per cent, S&P 500 e-minis were up 3.5 points, or 0.08 per cent, and Nasdaq 100 e-minis were up 28.25 points, or 0.18 per cent.
Among other movers, Bristol Myers Squibb fell 4 per cent premarket as Germany's Bayer on Sunday stopped a late-stage trial testing a new anti-clotting drug, hurting investor confidence in all firms developing similar class of drugs.