---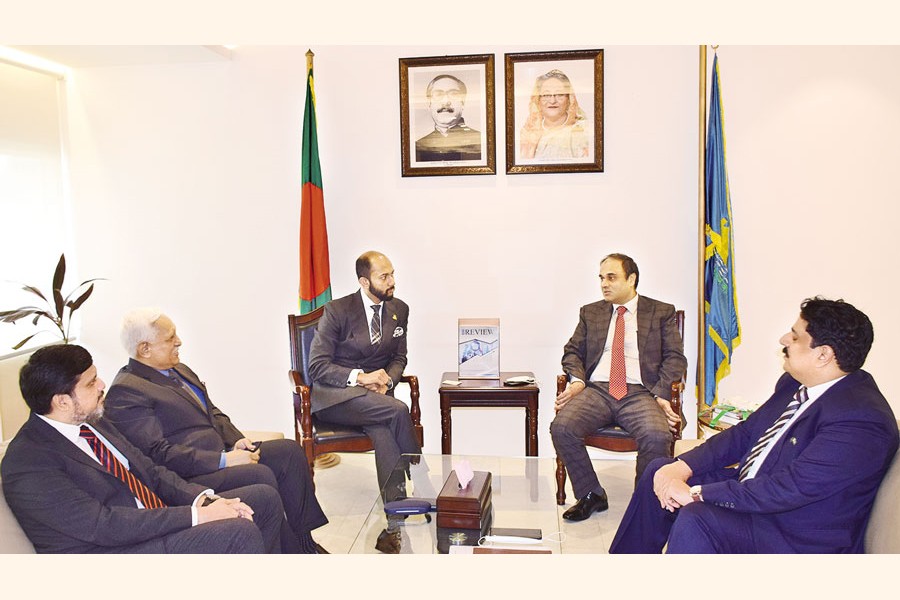 High Commissioner of Pakistan Imran Ahmed Siddiqui called on DCCI President Rizwan Rahman at the DCCI Office on Wednesday
High Commissioner of Pakistan to Bangladesh Imran Ahmed Siddiqui called on DCCI President Rizwan Rahman at the DCCI office on Wednesday, says a statement.
During the meeting, DCCI President Rizwan Rahman said that the participation of Pakistani entrepreneurs in the recently-held 1st DCCI Business Conclave-2021 was encouraging.
He also emphasized regional trade and investment with an active intervention of SAARC.
In the new normal situation, businesses started to expand and Bangladeshi private sector was open for all, he added.
In 2019-20, the bilateral trade volume of Bangladesh and Pakistan was USD 543.90 million, he said. In order to make Pakistani entrepreneurs aware of Bangladeshi market, DCCI Business Institute (DBI) could arrange training courses, he proposed.
He also said that Pakistan might sign PTA or FTA with Bangladesh to increase the trade volume.
He requested the High Commissioner to take an initiative for reactivating MOUs signed between DCCI and different chambers in Pakistan.
High Commissioner Imran Ahmed Siddiqui said Bangladesh's positions in different index were good and Pakistan wanted to enhance its bilateral trade with Bangladesh.
He said there was a Joint Economic Commission (JEC) between Bangladesh and Pakistan but its last meeting was held back in 2005. He urged all to activate the JEC for mutual benefits of both the countries.
He also mentioned that Pakistan was interested to restart direct flight with Dhaka. To boost bilateral trade, he underscored importance of direct shipment from Karachi to Chattogram port.
He also said that the private sectors of both the countries could be benefited in the agriculture and blue economy sectors.
Pakistan's fashion industry could provide a good opportunity for Bangladeshi entrepreneurs, he said, adding that cultural engagements could be a catalyst for strengthening economic diplomacy.
DCCI Senior Vice President N K A Mobin, FCS, FCA and Vice President Monowar Hossain were also present.