Trading remained dull on Dhaka bourse on Tuesday as the major sectors were mixed.
The market opened the day's session showing optimism and the broad index of Dhaka Stock Exchange (DSE) continued its upward trend for 45 minutes.
Later, the market observed selling pressure in some major sectors.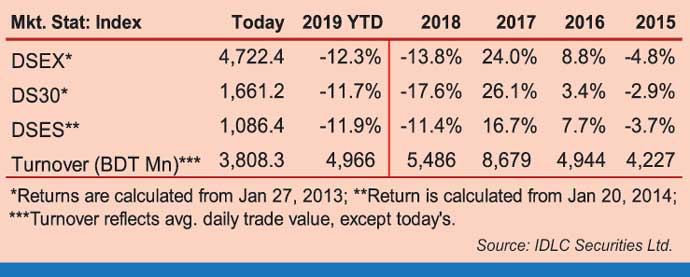 After the mid session, DSEX, the core index displayed volatility amid its falling mood and finally escaped loss mainly riding on the telecommunication sector.
At the end of the session, the DSEX settled at 4722.37 with a rise of 0.35 point.
According to International Leasing Securities, the market started with buying spree but selling pressure eroded the early gains as the risk-averse investors booked quick-profit on sector-specific stocks.
"Selling frenzy in fuel & power, food, jute and engineering sector stocks pushed the benchmark index to close flat," said the International Leasing Securities.
According to another market review of EBL Securities, investors' optimism failed to sustain as they went on short-term profit booking prompting the index to settle flat at the end.
The shariah based index DSES advanced 0.15 per cent or 1.66 points to close at 1086.38.
The DS30 index comprising blue chip securities closed at 1661.22 with a rise of 0.54 per cent or 9.07 points.
Of 334 issues traded, 124 advanced, 174 declined and 36 were unchanged on the DSE.
Of the large cap companies, the share price of Grameenphone advanced 3.86 per cent or Tk 12 to close at Tk 323 each.
However, the share price of another large cap issue British American Tobacco Bangladesh Company declined 0.37 per cent or Tk 4.0 to close at Tk 1085.20 each.
The turnover stood at above Tk 3.80 billion which was 7.03 per cent less than the turnover of the previous session.
Of the major sectors which witnessed price appreciation, bank advanced 0.2 per cent, financial institutions 0.2 per cent, pharmaceuticals and chemicals 0.3 per cent and telecommunication 3.7 per cent.
Of the sectors which witnessed price correction, engineering declined 0.5 per cent, fuel and power 0.6 per cent, general insurance 1.4 per cent, and textile 0.3 per cent.
Investors' participation was concentrated mostly on general insurance sector which grabbed 19.3 per cent of the market turnover followed by engineering 12.8 per cent, bank 10.4 per cent and pharmaceuticals and chemicals 9.6 per cent.
Grameenphone topped the scrip wise turnover chart with a value of Tk 241 million followed by National Tubes Tk 145 million, Standard Ceramic Industries Tk 87 million, Sonar Bangla Insurance Tk 86 million and Stylecraft Tk 76 million.
Beacon Pharmaceuticals was the number one gainer with a rise of 9.82 per cent to close at Tk 31.3 each.
Pacific Denims was the worst loser after declining 15.12 per cent to close at Tk 10.1 each.
On the Chittagong Stock Exchange (CSE), the benchmark index CASPI advanced 0.06 per cent or 9.18 points to close at 14334.37 points.
Of 240 issues traded, 83 advanced, 123 declined and 34 were unchanged and the turnover stood at above Tk 149.22 million on the port city bourse CSE.