---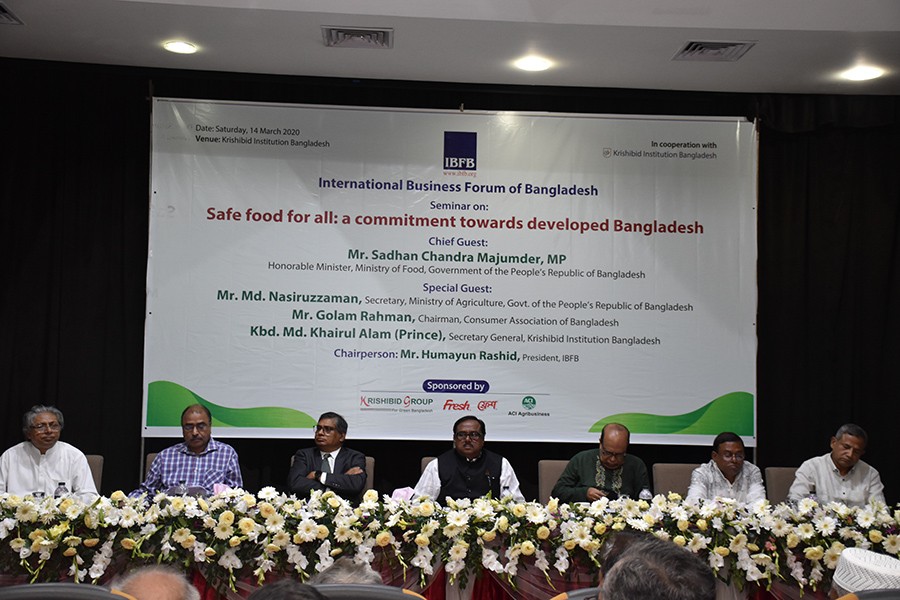 International Business Forum of Bangladesh (IBFB) organized a seminar on "Safe food for all: a commitment towards developed Bangladesh" at Krishibid Institution Bangladesh (KIB) on Saturday. Sadhan Chandra Majumder MP, Food Minister, graced the seminar as the chief guest. Dr Ataur Rahman Miton, General Secretary, BASAFE Foundation and Country Director, Hunger- Free Bangladesh. Humayun Rashid, president of IBFB, chaired. (story on page 12)
Speakers at a seminar on Saturday laid emphasis on the need for protection of farmers' interest and educating consumers to ensure food safety in the country.
They also called for proper implementation of related laws, lessening the use of hazardous chemical in crops production and government investment in post-harvest management in this regard.
They made the observation at a seminar titled 'Safe Food for All: A Commitment Towards Developed Bangladesh', organised by the International Business Forum of Bangladesh (IBFB) in cooperation with the Krishibid Institution Bangladesh (KIB) at the KIB auditorium in the city's Farmgate area.
Food minister Sadhan Chandra Majumder attended the seminar as the chief guest while chairman of Consumers Association of Bangladesh (CAB) Ghulam Rahman and the KIB secretary general Khairul Alam attended as the special guests.
Former agriculture secretary M Anwar Faruque, IBFB president Humayun Rashid and it's vice-president MS Siddiqui spoke on the occasion, among others.
Country director of Hunger Free Bangladesh Ataur Rahman Miton presented a keynote paper that made 13-point recommendations including research, amendment of food safety act and promoting organic fertiliser and pesticides to help ensure food safety.
Speaking on the occasion, Sadhan Chandra Majumder said the government has already taken a good number of initiatives to ensure food safety.
"The situation is improving now as the government agencies, including the food safety authority, are regularly monitoring to ensure food safety," he said.
Lauding the farmers' role in achieving the country's self-reliance in food production, the minister said food adulteration takes place mostly with the involvement of middlemen and food processors.
Underscoring the need for creating awareness, the minister said many traders sell rice variety called 'Nazirshail' or 'Minicate' though there is no such variety in the country in reality.
"Some traders dupe customers with such branding," he said, adding that actually those varieties are processed from some cheaper rice varieties.
The minister called for concerted efforts from all parties concerned to ensure food safety.
M Anwar Faruque said it is high time the country addresses the food safety issues following its success in ensuring food security as it is vital for better nation development.
The country could not focus on standardisation of food decades ago since it was a deficit-agriculture country amid huge number of population to feed with, he said.
He also said that to ensure food safety, there is no alternative to the protection of farmers, who is the crucial part of a food chain.
"Farmers play an important role for the food chain, whose interest deserve protection from the agencies concerned for ensuring food safety," said Mr Faruque, urging the government to invest in post-harvest management infrastructure, transportation and supply system.
MS Siddiqui identified consumer education as a vital issue for food safety. "Both the consumers and food producers must know their rights and responsibilities about food safety," he said.