---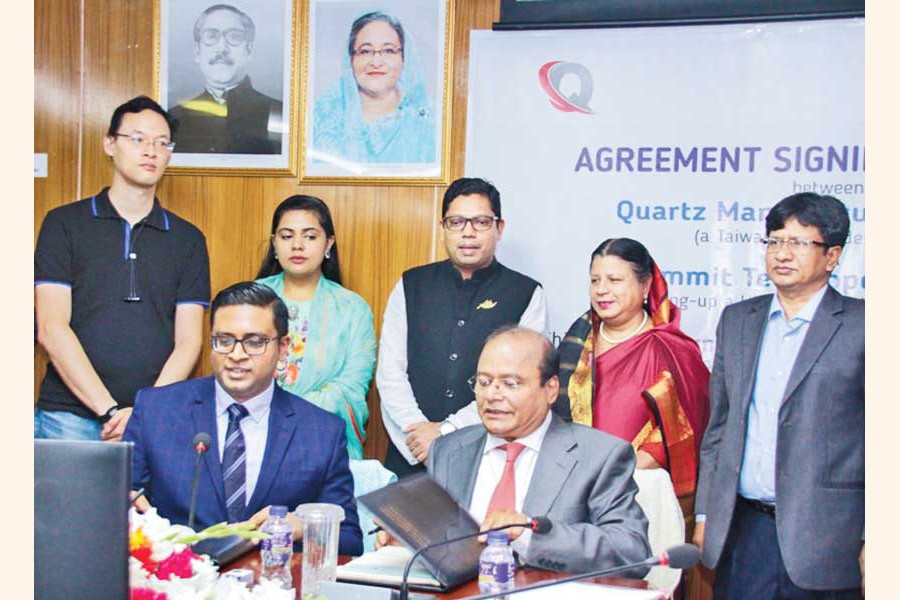 Managing Director of Summit Technopolis Abu Reza Khan (seated, right) and Managing Director of Quartz Manufacturing Zahed Azam signing a ready-space allotment agreement in presence of State Minister for ICT Zunaid Ahmed Palak at the ICT Tower at Agargaon in the city recently
Quartz Manufacturing signed an agreement on ready-space of about 20,000 square feet rental allotment with Summit Technopolis to assemble and manufacture IP phone, biometric devices, security system hardware, solar panel and IP-PBX in the Hi-Tech Factory Building at Bangabandhu Hi-Tech City in Kaliakoir, Gazipur, says a statement.
Under this agreement, Summit Technopolis, a subsidiary of Summit Group, will provide related infrastructural support to Quartz Manufacturing for an outlay of about US$ 5.0 million investment initially to be raised up to US$ 12 million in phases.
The plant is likely to commence operation by early 2020. Quartz initially plans to export the hi-tech product in India, Maldives, Sri Lanka, Bhutan and Nepal and thereafter to North America and Africa.
Managing Director of Summit Technopolis Abu Reza Khan and Managing Director of Quartz Manufacturing Zahed Azam signed the agreement at the ICT Tower at Agargaon in the city recently.
The agreement signing was witnessed by State Minister for ICT Zunaid Ahmed Palak, Senior Secretary of ICT Division NM Zeaul Alam, Managing Director of Bangladesh Hi-Tech Park Authority Hosne Ara Begum, and Director of Summit Group Fadiah Khan.
---
---
---
---