---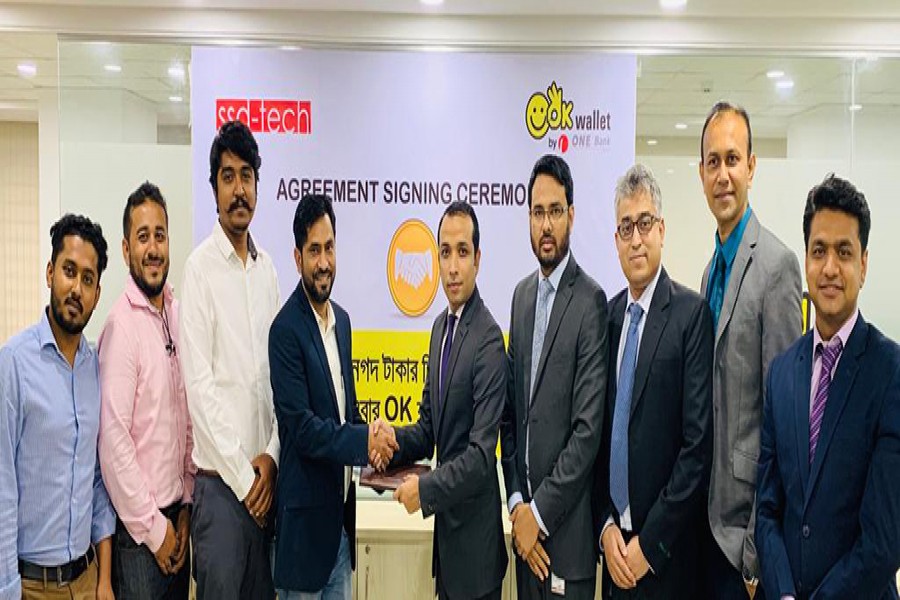 Senior officials of ONE Bank Ltd and SSD-Tech seen in an event to mark signing of a MoU that will enable the bank to reach out to its traditional account holders and convert them into digital wallet holders of the bank's mobile wallet - OK Wallet
ONE Bank Ltd. has recently signed a Memorandum of Understanding (MoU) to embark on a unique solution being designed and developed by SSD-Tech, that will enable the bank to reach out to its traditional account holders and convert them into digital wallet holders of the bank's mobile wallet - OK Wallet.
The signing ceremony took place at the head office of ONE Bank.
End-user communication in the right form, with right modalities, to generate desired response had been an unaddressed challenge for the product manufacturers and service providers alike. SSD-Tech has brought forward an innovation called Visual IVR, whereby a responsive digital portal pair up with very intuitive voice and delivers an unmatched experience to end-user. Receiver of such form of communication gets much better visual cues in the digital portal that loafs in their phone with right explanations and guidance by an intelligent voice system. This evokes higher actions and superior satisfaction.
In the signing ceremony, the head of Digital Service Operation of SSD-Tech, Mr Syed Kamrul Arefin Zihad said, 'Voice is again gaining ground in the realm of compelling communication. We have added a visual layer to it and made it a truly Visual IVR system, intuitive enough to surprise and delight a user. Any brand that wants to dramatically shift to personalized, engaging and effective communication, will get the maximum benefit from our Visual IVR system.'
Gazi Yar Mohammed, EVP & Head of MFS & Agent Banking of ONE Bank said, 'At OK wallet, we are continuously striving to offer seamless customer journey from customer onboarding to making day to day transactions. With this arrangement with SSD Tech, we hope that we can reach more people to use our services by downloading the OK wallet app from Google Play Store and Apple Store. Feature phone users can avail the services by dialling *269# on the mobile keypad.'
---
---
---
---