Stocks posted a modest gain on Sunday, the first trading session after nine-day Eid holiday, as investors were active on June-ending shares.
Trading and official activities on the bourses remained closed for nine days from August 9 to August 17, including weekly holidays, on the occasion of Eid-ul-Azha.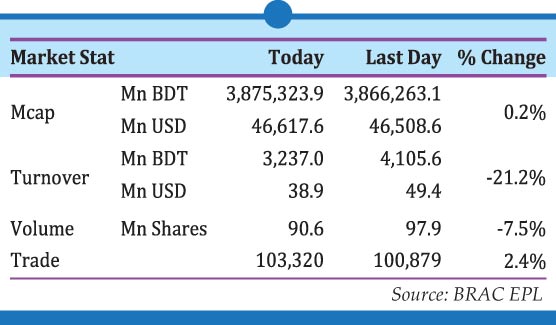 The presence of investors was thin in the brokerage houses as many investors are yet to return to Dhaka after observing Eid-ul-Azha in their village home.
DSEX, the prime index of the Dhaka Stock Exchange (DSE), settled at 5,216, gaining 15.11 points or 0.29 per cent over the last session before Eid holidays.
Market analysts said a section of investors were active on sector specific June-closing stocks while some rebalanced their portfolio based on quarterly earnings declaration.
Certain specific large-cap stocks like ACI, Berger Paints, Linde Bangladesh, Khulna Power and Olympic Industries contributed to the day's upward trend, commented EBL Securities.
The stockbroker noted that some investors also rebalanced their portfolio based on quarterly earning declarations and ahead of June-ending companies' dividend declaration.
Two other indices also nudged slightly higher. The DS30 index, comprising blue chips, advanced 4.04 points to finish at 1,841 and the DSES (Shariah) index gained 5.34 points to settle at 1,197.
Turnover, another important indicator of the market, stood at 13-session low to Tk 3.23 billion, which was 21 per cent lower than the previous day's turnover of Tk 4.10 billion.
The investors' attention was mostly focused on pharma sector, grabbing 19 per cent of the day's total turnover, followed by power with 16 per cent and general insurance 12 per cent.
International Leasing Securities said the investors mostly took position in June-ending stocks while some sold shares from most of the large-cap sectors, particularly banking, telecom and financial institutions sector stocks.
The stockbroker noted that the trading activities fell sharply as many investors are yet to resume business in Dhaka after enjoying Eid.
A total number of 103,320 trades were executed in the day's trading session with trading volume of 90.62 million shares and mutual fund units.
The market-cap of the DSE also rose to Tk 3,875 billion on Sunday, from Tk 3,866 billion in the previous session.
Large-cap sectors showed mixed performance. Pharmaceuticals posted the highest gain of 0.98 per cent, followed by power with 0.65 per cent, engineering 0.57 per cent and food 0.10 per cent.
On the other hand, banking sector witnessed the highest loss of 0.63 per cent, followed by non-bank financial institutions with 0.46 per cent and telecommunication 0.19 per cent.
The gainers took a modest lead over the losers as out of 352 issues traded, 184 closed higher, 123 ended lower and 45 issues remained unchanged on the DSE trading floor.
Khulna Power topped the turnover chart with shares worth nearly Tk 247 million changing hands, followed by JMI Syringes, United Power, Beacon Pharmaceuticals and Monno Ceramic Industries.
ACI Formulations was the day's best performer, posting a gain of 10 per cent while VFS Thread Dyeing was the day's worst loser, slumping by 8.86 per cent.
The port city's bourse, the Chittagong Stock Exchange, also closed marginally higher with the CSE All Share Price Index - CASPI - advancing 60 points to settle at 15,957 while the Selective Categories Index - CSCX -rising 35 points to finish at 9,696.
Here too, the gainers beat the losers as 124 issues closed higher, 85 suffered losses and 36 remained unchanged.
The port city bourse traded 4.82 million shares and mutual fund units worth nearly 151 million in turnover.