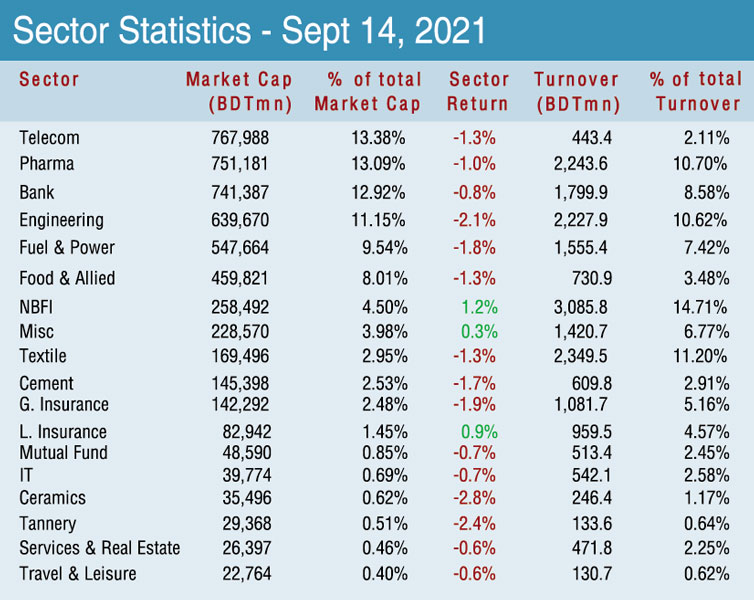 Broad index of Dhaka bourse on Tuesday declined significantly as majority number of listed securities lost prices following investors' cautious stance adopted to observe the market's movement.
The market opened the day's session positively and soon later the benchmark index of Dhaka Stock Exchange (DSE) failed to sustain and no strong recovery stance was observed till closure.
At the end of the session, the DSE broad index DSEX settled at 7140.50 with a loss of 1.07 per cent or 77.55 points.
Of 376 issues traded, 52 advanced, 300 declined and 24 were unchanged on Tuesday.
Market insiders said investors adopted cautious stance following some issues including the news regarding the conflicting stances by the securities regulator and the central bank over the use of unclaimed dividends.
On Monday, in a meeting held among different regulators the central bank said it would not allow the securities regulator to use the unclaimed or undisbursed dividends of banks and non-banking financial institutions by the Capital Market Stabilisation Fund (CMSF).
On Tuesday, the shahriah based index DSES declined 1.43 per cent or 22.60 points to close at 1556.22.
DS30 index comprising blue chip securities closed at 2611.68 with a loss of 0.89 per cent or 23.46 points.
The market insiders also said the price correction witnessed by some large cap companies including Walton Hi-Tech Industries and Berger Paints Bangladesh also played a role in the decline of index.
The companies' share prices declined as many investors offloaded shares amid the regulatory instruction regarding offloading more shares by those companies.
According to a market review of International Leasing Securities, investors remained watchful and preferred to book profits on Tuesday.
On Tuesday, the DSE featured a turnover of Tk 20.97 billion which was 2.74 per cent higher than the turnover of previous session.
Of total turnover, Tk 524 million came from transactions executed in block board of the premier bourse DSE.
Of major sectors which saw price corrections, banking sector declined 0.8 per cent, engineering 2.1 per cent, fuel & power 1.8 per cent, general insurance 1.8 per cent, pharmaceuticals & chemicals 1.0 per cent, telecommunication 1.3 per cent and textile 1.6 per cent.
Of the sectors which witnessed price appreciation, financial institutions advanced 1.3 per cent, life insurance 0.9 per cent, and miscellaneous 0.3 per cent.
Investors concentrated mostly on textile sector which grabbed 11.3 per cent of market turnover followed by engineering 1.8 per cent, pharmaceuticals & chemicals 1.7 per cent, and bank 8.6 per cent.
LankaBangla Finance topped the scrip-wise turnover chart with a value of Tk 1.11 billion followed by Beximco Tk 894 million, Beximco Pharmaceuticals Tk 708 million, Paramount Textile Tk 523 million and Walton Hi-Tech Industries Tk 497 million.
Meghna Life Insurance Company was the number one gainer with a rise of 6.30 per cent or Tk 6.9 to close at Tk 116.40 each.
Tamijuddin Textile Mills was the worst loser after declining 9.70 per cent or Tk 17.50 to close at Tk 162.90 each.
On Chittagong Stock Exchange (CSE), the benchmark index CASPI declined 0.81 per cent or 171.69 points to close at 20857.66 points.
Of 317 issues traded, 60 advanced, 227 declined and 30 were unchanged and the port-city bourse CSE posted a turnover of Tk 680.25 million on Tuesday.