---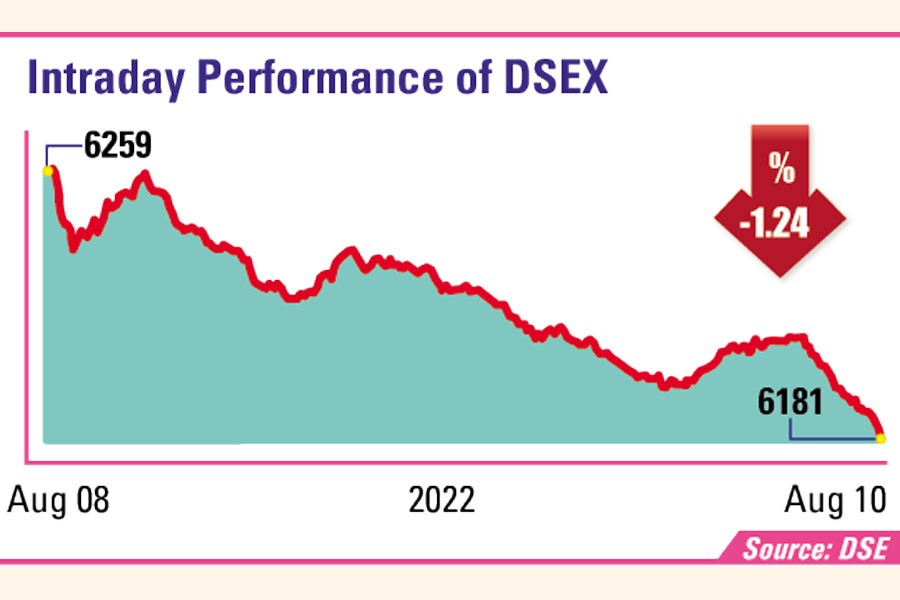 Prime Minister Sheikh Hasina presiding over a meeting of Father of the Nation Bangabandhu Sheikh Mujibur Rahman Memorial Trust at her official residence Ganobhaban in the city on Wednesday — Focus Bangla
The benchmark equities index dropped sharply lower on Wednesday, extending the losing streak for a third day in a row, as investors remained on the sidelines amid deepening economic worries.
The Dhaka Stock Exchange (DSE) opened the day's session in the red and the benchmark DSEX index continued its downtrend throughout the session, punctuated by weak recovery attempts.
Finally, the DSEX settled the day 1.24 per cent or 78.04 points lower at 6,180.90.
Two sub-indices of the DSE also finished lower. The Shariah-based index, DSES, plunged 1.0 per cent or 13.81 points to close at 1,354.42 points while the blue-chip DS30 index slid 1.19 per cent or 26.64 points to end at 2,210.95.
Of 379 issues traded, 26 advanced, 279 declined and 74 remained unchanged on the premier bourse.
"Equity indices of the prime bourse continued its losing streak for the third consecutive session that resulted from investors' concern regarding the overall macroeconomic outlook because of the recent fuel price hike," said a market review of EBL Securities.
Investors are becoming more worried as the profitability of the listed companies may suffer because of rise in production costs, it added.
At the end of the Wednesday's session, the DSE posted a turnover of Tk 7.99 billion, down 26.21 per cent from the previous session's turnover of Tk 10.83 billion.
Of the total turnover, Tk 719 million came from transactions executed in block trades.
Dhaka stocks witnessed a big fall and remained in the red for three consecutive sessions as shaky investors continued their sell-offs to book profits from the last week's price upsurge, said a market review of International Leasing Securities.
Of the major sectors which saw price corrections, banking sector declined 0.5 per cent, engineering 1.5 per cent, financial institutions 1.4 per cent, fuel & power 1.0 per cent, general insurance 1.1 per cent, life insurance 0.6 per cent, pharmaceuticals & chemicals 0.9 per cent, telecommunications 0.1 per cent and textile sector 2.8 per cent.
Jute was the only sector which witnessed a price appreciation of 0.7 per cent on the DSE.
Investors' participation was concentrated mostly on textile sector which grabbed 19.3 per cent of the market turnover followed by miscellaneous (12.40 per cent), engineering (9.9 per cent), pharmaceuticals & chemicals (9.8 per cent) and banking (6.8 per cent).
Beximco topped the turnover chart with shares worth Tk 665 million changing hands, followed by Sonali Paper & Board Mills (Tk 289 million), Sea Pearl Resort & Spa (Tk 269 million), Malek Spinning Mills (Tk 264 million) and Intraco Refueling Station (Tk 258 million).
Shurwid Industries was the top gainer, rising 5.08 per cent or Tk 1.0 to close at Tk 20.70 each.
Mozaffar Hossain Spinning Mills was the worst loser, shedding 7.55 per cent or Tk 2.40 to close at Tk 29.40 each.
The Chittagong Stock Exchange (CSE) also ended lower on Wednesday. CASPI, the benchmark index of the CSE, went down by 1.11 per cent or 205.64 points to close at 18232.76 points.
Of 264 issues traded, 32 advanced, 189 declined and 43 others remained unchanged.
The port city bourse featured a turnover of Tk 171.67 million on Wednesday.