FE REPORT
Stocks witnessed yet another major fall on Monday as jittery investors continued their sell-off amid growing tension over the country's macroeconomic situation.
The market went flat in the first half of the session while it dropped sharply in the last half, as investors, particularly the retail ones, went for panic sales.
Finally, DSEX, the benchmark index of Dhaka Stock Exchange (DSE), slid down 65.45 points or 1.01 per cent to settle at 6,413 points.
DSEX shed almost 88 points in the past three trading days as anxious investors continued to sell major sector shares.
"Stocks plunged further as concerns loomed around global economic contraction and recent macroeconomic adversities in the country," said Mostaque Ahmed Sadeque, former president of DSE Brokers' Association (DBA).
The country's remittance and export earnings fell in September while inflation has continued to rise.
Mr. Sadeque, also managing director of Investment Promotion Services Ltd, said some western countries had already warned that their economies were at the edge of falling into recession, which hit local investors' sentiment as those countries are major export destinations for Bangladesh.
Institutional investors did not play their due role when the market went into a free-fall, rather they created panic by taking part in the selling spree, said Mr. Sadeque.
Investors also reacted negatively to the regulator's recent restriction on purchasing shares before cheque encashment, and disappointment over the recent earnings declaration by some companies added to it, according to EBL Securities.
"The market has already been concentrated on a handful of stocks while some unfavourable factors relevant to the market have worked as a catalyst to generate selling pressure across the bourse," the stockbroker said.
Five large-cap stocks such as Beximco, Beacon Pharma, LafargeHolcim, Orion Pharma and Sea Pearl Beach Resort & Spa jointly accounted for 23 points fall of DSEX, according to amarstock.com, a market data analyst.
Turnover, a crucial indicator of the market, dropped to Tk 12.98 billion on the premier bourse, which was 3.35 per cent lower than the previous day's tally of Tk 13.43 billion.
Most of the traded issues remained unchanged due to the 'floor price' restriction. Of the 361 issues traded, 153 declined, 26 advanced and 182 remained unchanged on the DSE trading floor.
Two other indices saw sharp fall. The DS30 index, comprising blue chips, plunged 21.43 points to close at 2,277 and the DSE Shariah Index (DSES) lost 11.39 points to 1,406.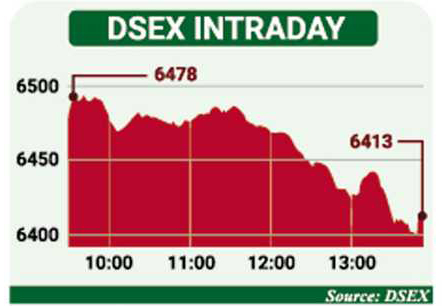 Major sectors suffered losses. Pharmaceutical experienced the highest loss of 1.0 per cent, followed by non-bank financial institutions 0.66 per cent, engineering 0.35 per cent, banking 0.34 per cent, power 0.28 per cent, food 0.11 per cent and telecom 0.04 per cent.
Eastern Housing became the most-traded stock with shares worth Tk 1.06 billion changing hands, followed by Orion Pharma (Tk 737 million), Beximco (Tk 635 million), Paper Processing & Packaging (Tk 371 million) and KDS Accessories (Tk 349 million).
Bangladesh Monospool Paper Manufacturing Company was the day's top gainer, soaring 8.64 per cent, or Tk 33.90, to Tk 426.20.
On the other hand, Apex Foods was the worst loser as its share price fell 13.69 per cent, or Tk 43.10, to Tk 271.80.
The Chittagong Stock Exchange (CSE) also ended lower with the CSE All Share Price Index (CASPI) losing 164 points to settle at 18,895 and its Selective Categories Index (CSCX) shedding 98 points to close at 11,325.
Of the issues traded, 104 declined, 34 advanced and 80 issues remained unchanged.