Stocks on Wednesday failed to maintain the momentum of the previous day that saw sharp gain.
The latest trend suggests retail investors remain unconvinced by government moves to support the moribund market.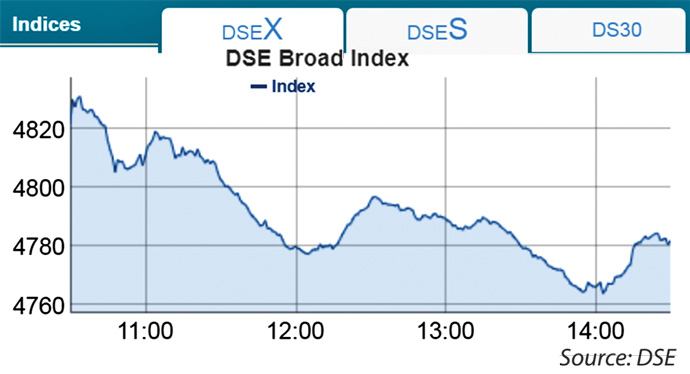 DSEX, the prime index of the Dhaka Stock Exchange (DSE), went down by 40.01 points or 0.82 per cent to settle at 4,781 on Wednesday, after gaining 110 points in the previous day.
Before previous day's gain, the market witnessed a sharp decline, losing 226 points in the six consecutive days, with DSE key index dipping three years' low to 4,711 on Monday.
The DSEX has lost a cumulative 1,160 points or nearly 20 per cent in the past nine months since January 24, this year when the index peaked at 5,950.
Market analysts said the institutional investors are suffering from liquidity crunch while the retail investors are not confident enough to inject funds into stocks amid a gloomy market outlook, taking the market in the deep red zone again.
The risk-averse investors showed their selling binge on large-cap stocks like Grameenphone, United Power, BATBC, Square Pharma and BRAC Bank, contributed 22 points fall of index jointly, an analyst estimated.
The general investors remain unconvinced by ICB's announcement to provide support to the flagging market, so despite a jump of 110 points on Tuesday most of them washed off their portfolio, he noted.
On Monday, the Investment Corporation of Bangladesh (ICB) declared that it would start buying shares with Tk 2.0 billion it has at present and with another Tk 8.0 billion that it will get from four state-run banks through issuing bonds.
The investors did not find proper guidelines from the meeting of DSE and DSE Brokers' Association held on Tuesday to help revive the country's ailing capital market, commented International Leasing Securities.
The investors' confidence got a battering, which triggered sell-off again amid the depressed market outlook, said a leading broker.
He noted that the investors remained worried about the recent volatility of the market.
The market opened on negative note and the downward trend continued until end of the session with no sign of reversal.
Two other indices also ended lower. The DS30 index, comprising blue chips, lost 18.65 points to finish at 1,685 and the DSE Shariah Index shed 9.92 points to close at 1,099.
Turnover, a crucial indicator of the market, also fell to Tk 3.24 billion, which was 1.22 per cent lower than the previous day's turnover of Tk 3.28 billion.
The port city's bourse, the Chittagong Stock Exchange, also ended lower with its All Shares Price Index (CASPI)-losing 91 points to close at 14,555 and the Selective Categories Index - CSCX -shedding 54 points to finish at 8845.
Here too, losers beat gainers as 159 issues closed lower, 59 ended higher and 29 remained unchanged on the CSE.
babulfexpress@gmail.com