---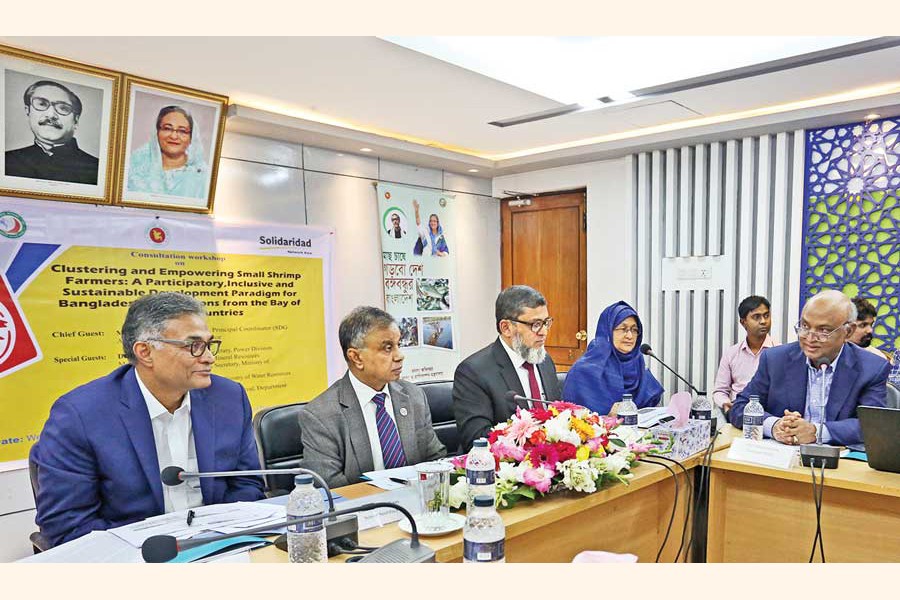 Bangladesh Shrimp and Fish Foundation chairman Syed Mahmudul Haq (extreme right) speaking at a workshop on Wednesday. On his right are director general of Department of Fisheries Quazi Shams Afroz, Secretary of the Ministry of Fisheries and Livestock Md Raisul Alam Mondal, Principal Coordinator (SDG Affairs), Prime Minister's Office, Md Abul Kalam Azad, and Senior Secretary of Power Division Dr Ahmad Kaikaus — FE photo
Cluster-based farming could raise shrimp production many times over if cluster sustainability and project longevity can be ensured, experts observed at a workshop on Wednesday.
At the same time, selecting right farmers for cluster farming is also an important part of the method, they said.
The consultation workshop titled 'Clustering and empowering small shrimp farmers: A participatory, inclusive and sustainable development paradigm for Bangladesh and lessons from the Bay of Bengal countries' was held at Matsya Bhaban in the city.
Bangladesh Shrimp and Fish Foundation in collaboration with the Department of Fisheries and Solidaridad Network Asia organised the event.
The experts said shrimp ghers in the coastal areas are not as deep as required for proper shrimp cultivation.
The low depth of ghers directly impacts the shrimp production, they said and urged the authorities to help famers dig their ghers to the required depth.
Participants in the workshop also pointed out that ensuring uninterrupted electricity supply is a major challenge for shrimp farmers.
They also called for appointing more skilled manpower in the fisheries department at local level so that they can help address various issues facing the shrimp farmers.
They also said farmers were not getting fair price for shrimps while farming tools and equipment have seen a price hike.
Speaking at the workshop, Rita Chowdhury, a female shrimp farmer, said marginal farmers do not get any financial supports or loans from banks.
Also, farmers have to depend on the import of fish feed, which pushes up the production cost, she added.
Md Abul Kalam Azad, Principal Coordinator (SDG Affairs), Prime Minister's Office, assured the farmers of providing necessary government supports.
The government is committed to providing sufficient electricity for farmers, he said and suggested installation of more solar power systems to facilitate shrimp farming.
Regarding loans, he asked the local authority to raise the issue with local banks in order to ensure that the farmers can avail bank loans.
Dr Yugraj Singh Yadava, Director of Bay of Bengal Programme, gave a presentation on 'Cluster approach: Lesson from the Bay of Bengal countries'.
Dr Ahmad Kaikaus, Senior Secretary, Power Division, Md Raisul Alam Mondal, Secretary, Ministry of Fisheries and Livestock, and Kabir Bin Anwar, Secretary, Ministry of Water Resources, also spoke.