---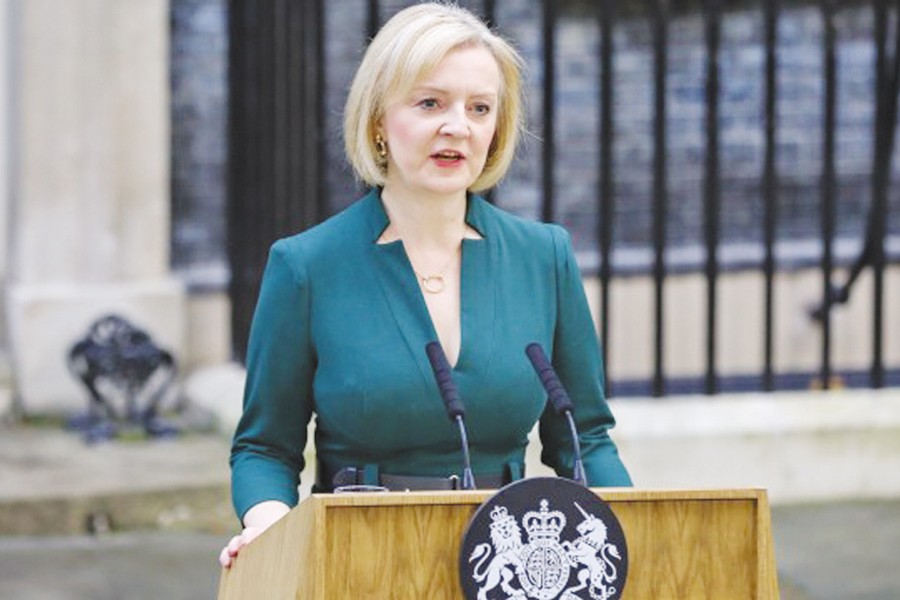 Former UK Conservative prime minister Liz Truss
LONDON, Sept 18 (AFP): Former UK Conservative prime minister Liz Truss on Monday waded in to give the Tory government economic advice, nearly a year after she triggered market turmoil and took the UK to the brink of financial meltdown.
In a speech, Truss blamed "25 years of economic consensus" and complacency for causing stagnation, due to an "anti-growth coalition" of the "political and economic establishment".
"I believe it is vital that we understand that and shatter that economic consensus, if we are to avoid worse problems in the future," she told the Institute for Government political think-tank.
Her intervention came with the UK still feeling the after-effects of her chaotic, short-lived tenure, heaping pressure on her successor Rishi Sunak with a general election expected next year.
Year-on-year inflation in the UK is 6.8 per cent-the highest in the G7 -- while GDP shrank by 0.5 per cent in July after growing by the same amount the previous month.
Current finance minister Jeremy Hunt is preparing to outline government spending, ruling out tax cuts while inflation remains stubbornly high, causing a row in the ruling Conservative party.
An unrepentant Truss-a self-described free-market liberal who promised "growth, growth, growth" before she took office-urged Hunt to cut taxes to stimulate the UK economy.
She also urged the government to ditch some net-zero commitments, including the ban on the sale of new petrol and diesel vehicles from 2030, and to increase the retirement age.
But she was roundly mocked even before she gave the speech.
"We're all still paying the price of Liz Truss," said Angela Rayner, deputy leader of the main opposition Labour party.
"Liz Truss giving a speech on economic growth is like an arsonist giving a talk on fire safety," added her counterpart at the smaller opposition Liberal Democrats, Daisy Cooper.
The former governor of the Bank of England, Mark Carney, said that instead of delivering a low-tax, lightly regulated "Singapore-on-Thames", she had created "Argentina-on-the-Channel".
Asked about his criticisms, Truss said Carney was "defensive" about the part he played in the "25-year economic consensus that has led to low growth across the Western world".
"I'm afraid there's quite a lot of finger-pointing going on from people like Mark Carney because they don't want to admit their culpability or the culpability of their central banking associates in this," she added.
Truss had been warned when she took office in September last year-notably by Sunak-that trying to stimulate growth through tax cuts with more borrowing would make inflation worse.
She and her finance minister Kwasi Kwarteng ignored critics, causing the pound to plummet and a surge in mortgage rates, adding more pain to households already squeezed by hikes in food and energy bills.
After a U-turn, Truss fired Kwarteng then resigned herself on October 14 last year with her government's credibility in tatters, making her the shortest-serving UK prime minister in history.