United Insurance Company posted a 6 per cent year-on-year rise in profit to Tk 77.86 million for 2022, backed by higher gross premium income.
As a result, the general insurer's earnings per share (EPS) stood at Tk 1.75 for 2022, up from Tk 1.65 a year ago, according to its audited financial statements.
The company saw a moderate growth both in gross premium income and profit after tax on the strength of its core business, said Company secretary Md. Imran Hasan.
Premium income rose almost 8 per cent year-on-year to about Tk 586 million in 2022.
Interest income from fixed deposit receipt (FDR) also helped profit growth, said Mr Hasan.
The board of the company declared a 10 per cent cash dividend for 2022, the same as in 2021.
United Insurance provides insurance coverage for fire, marine cargo, personal accident, overseas medical claims, motor vehicles etc.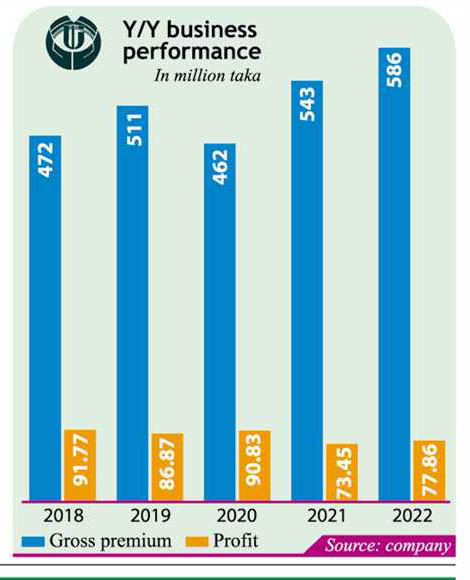 The company also underwrites non-life insurance business of all classes.
It has earned a good reputation among insurers in Bangladesh and abroad by virtue of its high underwriting standard, prompt settlement of claims and its ability to provide support and guidance to its clients, said Mr Hasan.
Because of the company's selective nature of underwriting, its premium income is modest, but it has generated a steady underwriting profit every year and has produced profitable results for the reinsurers since its inception.
Mr Hasan, however, said the non-existence of third-party insurance for vehicles had slowed down insurance business. The profit would otherwise have been much higher.
In absence of third-party insurance, the government is depriving itself of tax revenue from insurer's premium income, he added.
Third-party insurance is a policy purchased by the insured from the insurer for protection against claims by a third party. For example, the owner of a vehicle pays a premium to an insurance company to cover the damage in a road accident involving the vehicle.
In Bangladesh, no one buys third-party insurance products since it is not mandatory. As per the Motor Vehicles Ordinance 1983, third-party insurance was compulsory but it is not mandatory under the Road Transport Act 2018 which is in effect now.
The company's net asset value per share dropped slightly to Tk 32.68 in 2022. This happened due to the reduced market value of investments in securities and other assets, the company secretary said.
The net operating cash flow per share also fell 72 per cent to Tk 0.69 in 2022 due to the hike in agent commission expenses and reinsurance payments.
Listed in 1990, the United Insurance's stock closed at Tk 37.90 on Thursday.
There are 46 general insurers and 34 life insurers operating in Bangladesh, of them 56 are listed on the stock market.
United Insurance is the only insurance company in Bangladesh, having links to the associates of the Camellia PLC of UK, according to its website.
The general insurance business in Bangladesh accounts for less than 1 per cent of the country's total gross domestic products as a large part of the economy still remains untapped.
The scope for expansion is enormous, which is possible by a coordinated effort of the government, the Insurance Development and Regulatory Authority (IDRA) of Bangladesh, and insurance companies, said United Insurance in its latest annual report.