---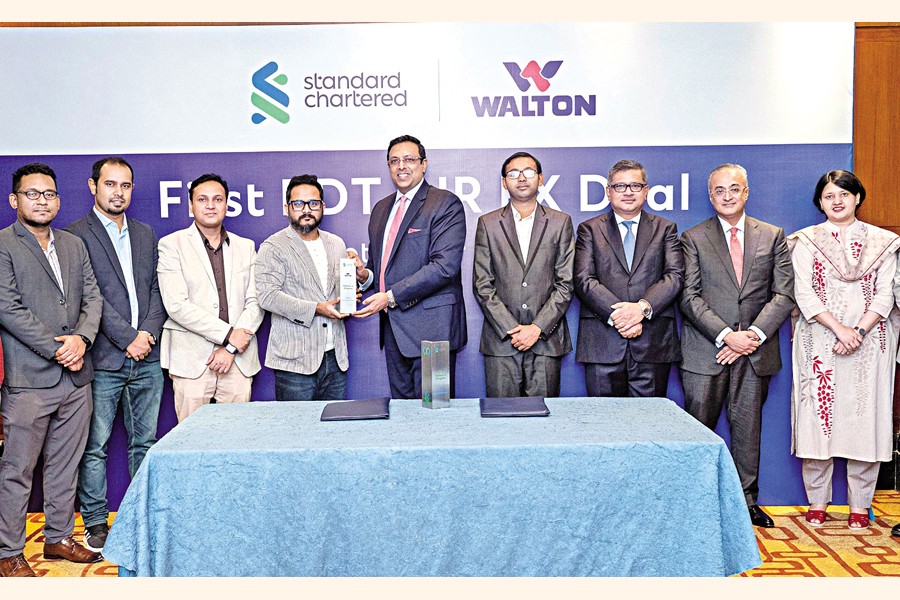 Standard Chartered Bangladesh CEO Naser Ezaz Bijoy hands over a crest to Walton Hi-Tech's MD and CEO Golam Murshed at a signing ceremony of the first BDT-INR export transaction deal at a hotel o n Monday.
Electrical, electronics and technology giant 'Walton' has started export trade operations with India in rupees and Standard Chartered Bangladesh executed the first BDT-INR (Indian Rupee) export transaction for Walton, says a press release.
In this regard, Walton Hi-Tech Industries PLC and Standard Chartered Bangladesh (SCB) signed the first BDT-INR foreign exchange deal at a hotel in the capital on Monday.
On behalf of their respective organisations, Walton Hi-Tech Industries Managing Director and CEO Golam Murshed and SCB's CEO Naser Ezaz Bijoy inked the deal.
Walton Refrigerator's Chief Business Officer Tofail Ahmed said Walton will export refrigerators worth about US$10 million this year to a well-known electronics product marketing company in India.
"Walton is going to send the first shipment of refrigerators worth 17 million rupees to the Indian company in November. Of which, the Indian company has already paid 10 per cent of the advance payment in Rupees," he added.
Walton Hi-Tech's MD and CEO Golam Murshed said, "Walton annually exports about 1 billion rupees worth of refrigerators, compressors, fans, spare parts in India. As Walton has started export trade settlement in INR, Bangladesh will be able to settle equivalent import bills with INR. Thus, the pressure on the dollar will ease. Moreover, the cost of exchanging currencies twice for importers and exporters of both countries will also be reduced. It will also save time in transaction settlement."
---
---
---
---