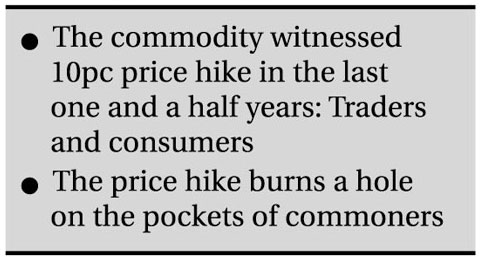 Tea consumption has become costlier for consumers as the price of the widely-consumed beverage in the country increased 10 per cent in the last one and a half years.
Traders, restaurant and tea stall owners blamed soaring prices of sugar and condensed-milk, the two main ingredients to prepare a cup of tea, and liquefied petroleum gas (LPG), required to make hot water for tea, for the price hike of tea, world's second most popular drink after water.
Besides tea, other snacks, including bun, biscuits and some other fast foods consumed by middle- and low-income people, daily wage earners and the poor at the roadside makeshift shops, also became dearer recently, augmenting woes of the commoners, they said.
Visiting some areas in the capital recently, this correspondent found expenditure on a cup of tea at the city makeshift shops on footpath has increased by Tk 1.0-2.0 amid soaring prices of sugar, LPG and condensed-milk, according to consumers and shop owners.
Price hikes of such essential commodities have further increased sufferings of the consumers, especially the commoners, key customers of makeshift tea stalls or road side snacks.
Price of one cup of tea has shot up to Tk 6.0-8.0 in many roadside shops from Tk 5.0-Tk 6.0 earlier, it was found.
Tea mixed with sugar and condensed milk is mainly served to such customers at the 0.5 million (5.0 lakh) roadside tea shops across the country. Higher cost of tea in line with price hikes of sugar, condensed or skimmed milk and LPG gas has burnt a hole in their pockets, said the consumers.
Many of the customers at the tea-stalls were seen arguing with shop owners over the sudden price hike of the beverage in the last few days.
"I eat a bun and a banana on my breakfast and evening snacks then enjoy a cup of tea at roadside tea shops", said Mohsin Molla, a rickshaw-puller at Poolpar area in the city's Rayer Bazar area.
He noted that prices of bun, biscuits and other bakery items had increased by Tk 2.0- 3.0 per piece a few months back.
Now, a cup of tea has become pricier by Tk 2.0, he said, adding, the poor people will have to count an additional amount of money for consuming a cup of tea.
He mentioned that the total monthly cost of breakfast and snacks for each of them have increased by Tk 500-Tk 600 due to price hike of these items when their income declined notably for the coronavirus pandemic.
Md Jakaria, a tea-stall owner at Sankar in West Dhanmondi, said sugar prices jumped to Tk 80 per kilogram last week from Tk 72.
He said prices of condensed milk increased by Tk 6.0 per container in a week and Tk 25 per container in the last six months.
"Tea prices rose by 10 per cent in the last one and half year but we didn't raise price of a cup of tea for the consumers following a low customer turnout during the lockdown," he stated.
Besides, the price of a 12-kg LPG cylinder spiked to Tk 1,150 from Tk 1,000 one month back, he said adding, profits in cigarettes have also declined while daily 'rent' for the shop space has also notably increased.
Abdul Gani, a teashop owner at Dhanmondi Road No-27, said he didn't raise tea prices but changed the size of the cup.
"I've bought smaller-sized cups which contain 15-20 per cent lesser amount of tea than that of previous cups to avoid unnecessary hassles with the customers," he stated.
He said cost to make 100 cups of milk-mixed tea needs four containers of condensed milk costing Tk 300, 1.25 kg sugar costing Tk 100, tealeaf at a price of Tk 100 and fuel worth approximately Tk 50.
The minimum cost to make one cup of tea is Tk 6.0, he a1dded.
However, the government fixed maximum retail price for one kilogram of sugar at Tk 74-75 a few days back but its effect is not yet visible in the market, according to market sources.
Most of the groceries are still selling loose sugar at Tk 78-82 per kg and packet ones Tk 84-88 a kg.
Fuad Hasan, proprietor of Mohammadpur-based Madina Enterprise, a distributor, said condensed milk prices increased mainly because of rising prices of palm oil in the local market.
He said palmolein fat, sugar, skimmed milk and other vegetable fats are key raw materials to make condensed- milk.
Mr Hasan said major refiners like Meghna Group, Abul Khair and others are mainly suppliers of condensed milk in the country.
Consumers Association of Bangladesh vice president SM Nazer Hossain said rising costs of daily essentials have been battering the low- and middle-income segment of the society during the ongoing pandemic when their income declined notably.
He said a surge in prices of tea, bun or similar snacks at makeshift tea stalls on the sidewalk hit hard the low-income, daily wage earners and the poor as these snacks and beverage provide a good portion of their daily calorie intake.
He said commodities of the day to day necessities --- from rice to cooking gas - increased multiple times in the last few months augmenting woes of the commoners who had already dug deep into their pockets to meet the increased cost of living amid a decline in their earnings.
He noted that the government has not yet reviewed the existing import duties on import-dependent products like sugar and edible oil despite soaring prices of the commodities in the international market in the last one and a half years.
He suggested for intensive and proper market monitoring. Apart from enhancing market monitoring, he urged the government to remove import duties on such products to allow the commoners some space to take a sigh of relief.