---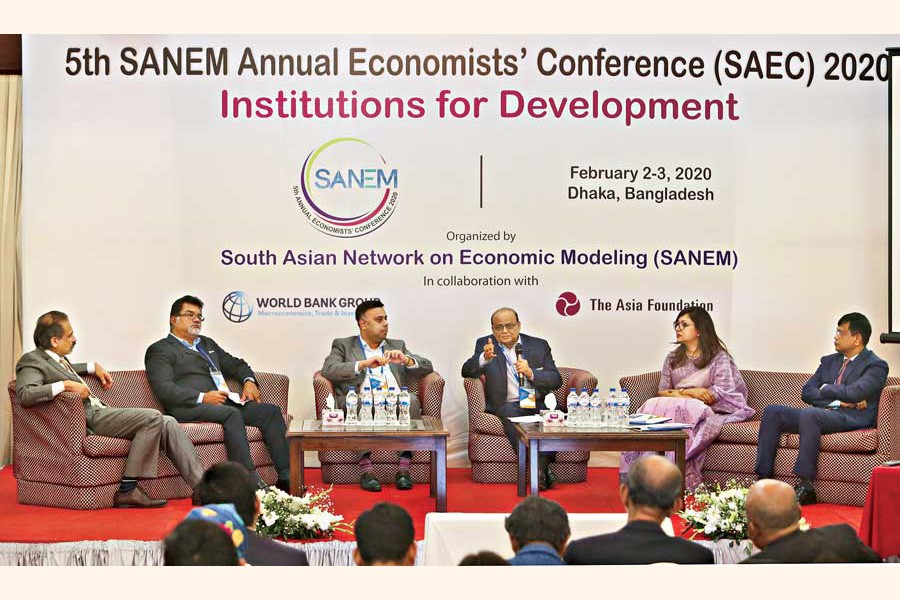 Policy Research Institute of Bangladesh (PRI) Chairman Dr Zaidi Sattar (third from right) speaking at a session of the 5th SANEM Annual Economic Conference (SAEC) 2020 at a convention centre in the city on Monday — FE photo
Experts at a session on Monday called for allowing the bonded warehouse (BWH) facility with simplified rules for all the export-oriented sectors to help diversify exports.
The session was also informed that though there is no discrimination in the policy regarding availability of the facility, the non-readymade garment sectors were not getting equal treatment in regular practices.
The experts, however, identified a number of issues including complex set of rules, manual paper-based process, significant revenue leakage in the current regime, significant amount of redundancy in documentation and data requirements and formalities, absence of required efficiency that are impeding the full potential of BWH facility.
The observations and recommendations came at a session on the second day of the SANEM annual economists' conference (SAEC) 2020 in the city.
Dr. Masrur Reaz, senior economist and programme manager at the World Bank Group, moderated the session titled "Challenges of Export Growth and Diversification in Bangladesh: The Case of Bonded Warehouse Modernization".
Speaking at the session, Dr Zaidi Sattar, chairman at the Policy Research Institute (PRI), said the bonded warehouse facility ensures availability of inputs for export production at world-level prices.
Terming the country's tariff regime 'highly protected', he said that unless the exporters get the inputs at world prices, they do not have a level-playing field in the global market.
Bangladesh's exports are largely concentrated on RMG that also showed the dire need of diversification, he added.
"And export diversification is linked to the bonded warehouse facility," Mr. Sattar said, suggesting replication of RMG sector's success to other non-RMG sectors.
Protection helps raise profitability of domestic sales and cannot help increase export profitability while the highly-protective tariffs make domestic sales more profitable than exports, he added.
Out of the total 1,600 items exported in FY'18, some 1,400 were non-RMG, he said, adding that there are more than 4,000 RMG bonded warehouse licences whereas there are only 200 non-RMG licences.
He recommended making available the bond facility for all the export-oriented sectors to expedite the long required export diversification.
Special bonded warehouse (SBW) ensures duty-free inputs, creating a level-playing field on the global market while the labour cost advantage can be fully exploited, said Nusrat Nahid Babi, private sector specialist at the World Bank Group.
"As long as tariffs exist, and remain high, SBW is a must for export success," she said, while presenting a keynote paper.
Around 4,000 firms, mostly small in size, were involved in exports while most of them did not use SBW system. Thus, the non-RMG exports are in disadvantageous position as compared to the RMG, she said.
Non-RMG exports ranged between US$ 5.0 and US$ 7.0 billion a year during the period of FY2013-17. Effective SBW could have boosted non-RMG exports by nearly $ 1.5 billion a year, she added.
Though the existing SRO extends SBW facility to non-RMG, grant of licence is selective because they are not fully export-oriented, she noted.
To address administrative challenge of managing another 4,000 licensees, in addition to the existing more than 4,000 licensees, she recommended modernisation and full automation of the system.
Abul Kasem Khan, managing director at AK Khan Telecom Limited, suggested providing proper policy for products and common bonded warehouse facility for all the exportable items.
Asif Ibrahim, vice chairman at Newage Group, said that the policy should be consistent for every sector and there should not be any biasness. He also stressed the need for rationalisation of tariff structure.
If any private enterprise applied for bond licence by meeting all the requirements, the authorities concerned provided it, said Abu Nur Rashed Ahmed, additional commissioner at Dhaka Customs Bond Commissionerate.
He, however, added that there is no discrimination in policy regarding issuance of the bond licence.
Munni_fe@yahoo.com