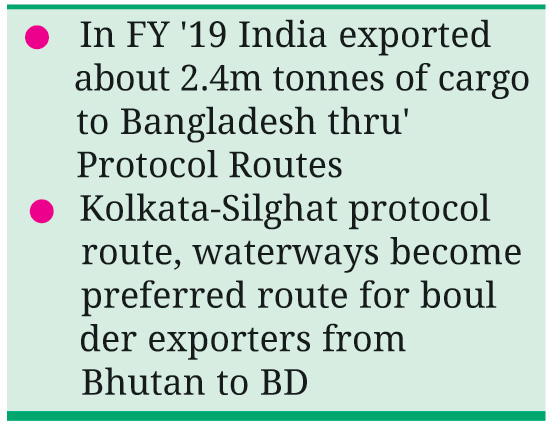 Construction of a floating jetty at Sonamura in Indian state of Tripura was completed in just three weeks, according to reports by India-based web portals.
According to officials, the construction of the makeshift jetty was done on war footing. It is a floating jetty and around 700 plastic boxes have been used to build it.
Paving the way for small vessels to ply between Sonamura and Daudkandi of Bangladesh, the jetty is expected to put Sonamura on the map for Indo-Bangladesh Protocol Route.
Tripura Chief Minister Biplab Kumar Deb has said that ships would start ferrying goods through the inland waterways transport route on River Gumat in three months as part of a forthcoming waterways communication project with Bangladesh.
"Both India and Bangladesh signed an agreement on this issue before. Both countries have decided to start work amidst the (Covid-19) pandemic. I thank them for this initiative. I hope ships will start operating in next 3-4 months," the Tripura chief minister of India's northeastern state told reporters during his visit to the jetty site.
India and Bangladesh signed the second addendum to the Protocol of Inland Water Transit and Trade (PIWTT) at the end of May.
The agreement adds an additional route between Sonamura in Tripura and Daudkandi in Bangladesh's Cumilla to the existing eight protocol routes - along which vessels can travel across international borders.
It also declares Jogigopha of India's northeastern Assam state and Bahadurabad of Bangladesh, as new ports of call along the Kolkata-Silghat and Karimganj-Silghat routes.
With 54 shared rivers India and Bangladesh have significant possibilities to harness the trade and economic benefits of inland waterways.
The extension of the routes and new ports should open up the waterways to smaller traders bringing agricultural goods and other materials between Bangladesh and India's landlocked northeastern states.
Cross border river trade between the two countries is governed by the PIWTT, first signed in 1972.
The subsequent addendums in 2018 and 2020 have included new ports of call and routes.
During 2018-2019 India exported about 2.4 million tonnes of cargo to Bangladesh through Protocol Routes.
Out of this, 97 per cent comprises fly ash - toxic residue left over from burning coal - and the rest included steel cargo, steel coil/rail and stone chips.
Shipping goods by river can save time and money.
Since Dhubri became a port of call in 2018 along the Kolkata-Silghat protocol route, waterways have become a preferred route for boulder exporters from Bhutan to Bangladesh.