---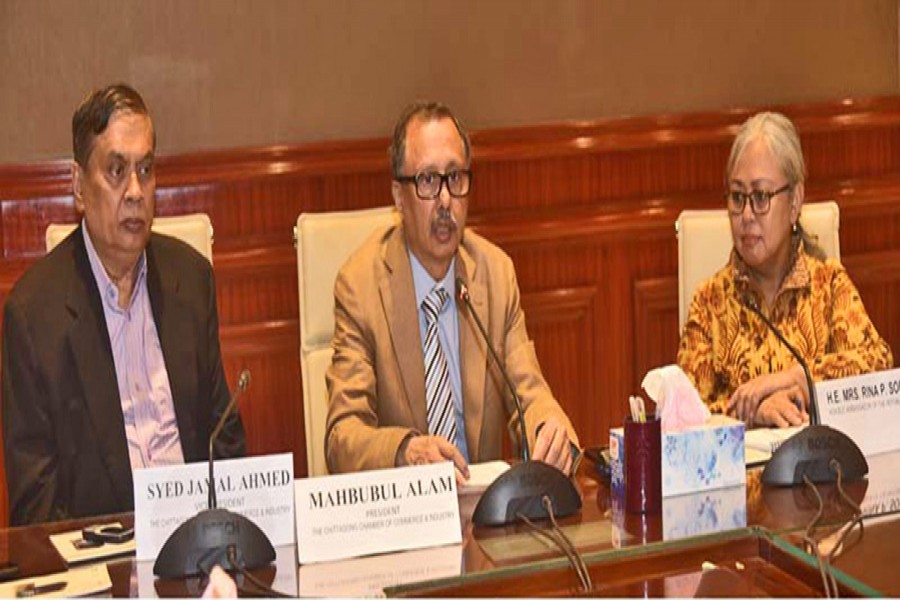 Chittagong Chamber of Commerce and Industry (CCCI) Mahbubul Alam speaking at an exchange of views meeting in Chattogram city recently with Indonesian Ambassador to Bangladesh Rina P Soemarno and CCCI Vice President Syed Jamal Ahmed present
CHATTOGRAM, Sep 15: Indonesia's Ambassador in Dhaka Rina P Soemarno has said that Bangladesh is an important state in the South and Southeast Asian region.
Bangladesh is a very important state in terms of economic and social aspects for which existing greater communication between Bangladesh and Indonesia is very much logical and expected, said Soemarno.
She made the remarks during an exchange of views meeting with Chittagong Chamber of Commerce and Industry (CCCI)'s President Mahbubul Alam at the World Trade Centre in the port city recently.
CCCI Vice President Syed Jamal Ahmed, directors Zahirul Islam Chowdhury (Alamgir), Ahid Siraj Chowdhury (Swapan) and Anjan Shekhar Das, former director Md Mohsin and Economic Counselor of the embassy Inggrid Rosalina were also present and spoke.
Soemarno noted that recent visit to Bangladesh by the Indonesian president has opened up new avenues for development in both the countries.
The visit also created a new era in strengthening relations between people and businesses of the two countries and they need to further expand cooperation among them, she said.
She mentioned that her country with a population of 260 million is a great potential market of Bangladesh's jute and jute products, medicine, ceramics, construction materials and many more items.
To boost bilateral trade and enhance export potentials, Bangladesh and Indonesia are going to sign a trade agreement on priority basis, she told the meeting.
Besides, the Indonesian embassy is working to launch direct air and shipping lines on a priority basis which will help grow the people-to-people and business-to-business relations, she asserted.
She invited the businesses and entrepreneurs of Bangladesh to participate in the 33rd Trade Expo in Indonesia, the biggest ever trade show in Southeast Asia, to be held on October 24-28.
CCCI President Mahbubul Alam said the brotherly, religious and cultural bondage between the two countries is important and excellent.
He emphasised on further strengthening bilateral trade and commerce and sought initiatives of the Indonesian ambassador in this regard.
Alam mentioned that Bangladesh imported goods worth US $1,107.1 million from Indonesia in fiscal year 2016-17.
Bangladesh's export to the Southeast Asia's biggest economy was $ 46.39 million in the FY '17, the CCCI chief said.
He underscored the need for arranging more discussions between the two countries and taking measures for strengthening business relation in the private sector.
"The government has set up a good number of specialised economic zones in the country where the Indonesian businesses can invest in the IT (information technology), infrastructure and the bay terminal construction," said Alam.
He also stressed on launching direct flight between the two countries and sought duty-free facility for the Bangladesh's export items.
CCCI Vice President Syed Jamal Ahmed sought Indonesia's help in setting up industries in Bangladesh while Anjan Shekhar Das urged Jakarta to cooperate in developing Bangladesh's tourism and blue economy.
Former director Md Mohsin proposed introduction of a sister city programme between Chattogram and Indonesia's Sabang city.