---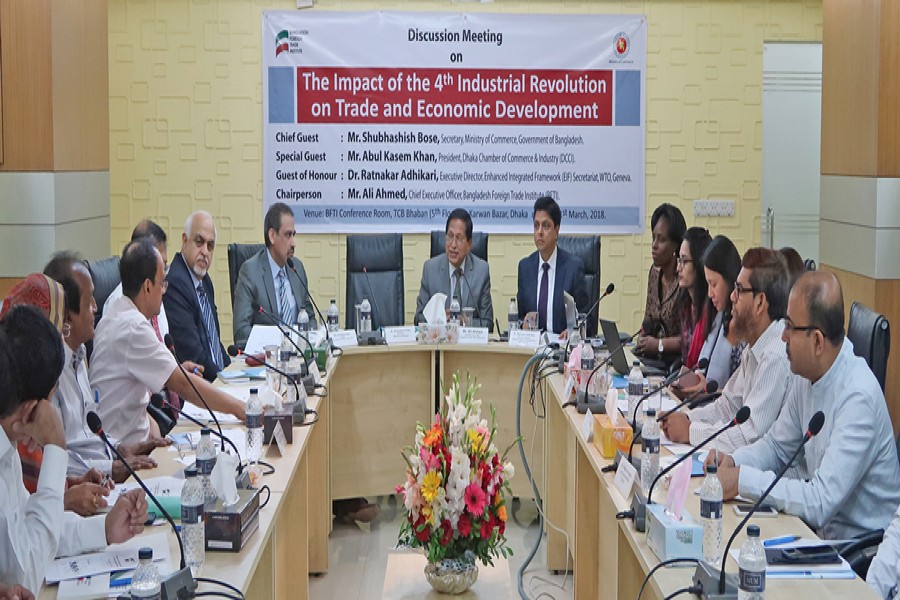 President of DCCI Abul Kasem Khan and executive director of EIF Ratnakar Adhikari, among others, taking part in the discussion on 'The Impact of the 4th Industrial Revolution on Trade and Economic Development' organised by Bangladesh Foreign Trade Institute (BFTI) at its office in the city Wednesday with chief executive officer of BFTI Ali Ahmed moderating it — FE Photo
Bangladesh needs to adopt proper policy, develop infrastructure and reform the education system in order to benefit from the Fourth Industrial Revolution, experts at a discussion said on Wednesday.
Though digital industrialisation helps increase production, reduce trade cost, enhance competitiveness and improve global supply and value chain, Bangladesh is not ready for such transition, they observed.
Bangladesh Foreign Trade Institute (BFTI) organised the discussion on 'The Impact of the 4th Industrial Revolution on Trade and Economic Development' at its office in the city.
Abul Kasem Khan, president of Dhaka Chamber of Commerce and Industry (DCCI), and Ratnakar Adhikari, executive director, EIF secretariat of WTO (World Trade Organisation), Geneva, among others, spoke at the meeting moderated by Ali Ahmed, chief executive officer of BFTI.
"Bangladesh is still waiting for the second revolution to start. Bangladesh has a large population and it is important to employ them first," the DCCI president said.
Speeding up industrialisation is the only way to generate employment for such a huge population, he said, highlighting the need for reform of the policy and the education system and development of infrastructure.
The private sector can create more employment, but it is not getting opportunity to raise finance from the stock market, he said and called for creating investment climate for the private sector.
He also said tax reform is critical. If the government reduces taxes, it would lose revenue, but the economy will not be affected, as such a measure would help private sector to create more employment, he added.
Nahrin Rahman Swarna, assistant research associate of BFTI, said the first industrial revolution used steam power for mechanisation, the second used electrical equipment for mass production, the third used computers and automation while cyber physical system, including autonomous robots, cloud computing, additive manufacturing and big data are being used in the fourth industrial revolution.
Bangladesh can benefit much from the fourth industrial revolution, as it offers increased production, improved supply and value chain, improved agriculture, manufacturing and services sector and efficient data or information sharing and improved performance of SMEs through e-business, she said.
But there are also risks factors, she said in her keynote paper.
"Rise in unemployment, decrease in income of low-skilled workers, rise in income inequality and cyber security risks are the major challenges," she added.
"If we lag behind, Bangladesh would remain stuck in low-end production with less attractive products to global buyers and lower competitiveness, thus resulting an impact on export in the long run," the BFTI presentation said.
Government should play its role by enabling required policies, infrastructure development and accelerating reforms in education for creating manpower having technical skills to make the revolution work for Bangladesh, it suggested.
It also suggested that private sector should invest in automation and international agencies should help it get better access to intellectual property, science and technology, and aid for trade.
Cheap labour is one of the advantages of least developed countries, but it might not continue in future to sustain competitiveness, Ratnakar Adhikari said, suggesting embracing additive manufacturing technology to lower cost.
Terming job loss, ensuring cyber security and privacy as challenges, he, however, recommended investment in related infrastructure like electricity and research and development, affordable cost of internet usage and reduced tariff on technology.