---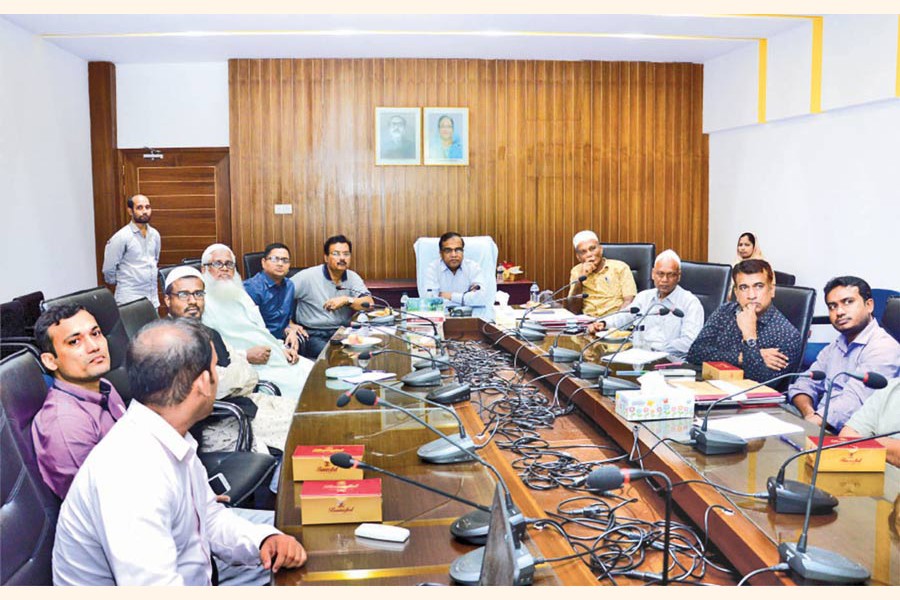 Director of BRTC Professor Dr Md Hajrat Ali (C) chairing an exchange of views meeting between Bangladesh Economic Zones Authority (BEZA) and Chittagong University of Engineering and Technology (CUET) at CUET campus on Wednesday. BEZA Deputy Secretary Md A Alim Khan and CUET Vice Chancellor Prof Dr Mohammed Rafiqul Alam were also present — FE photo
CHATTOGRAM, Sept 11: Speakers at an exchange of views meeting on Wednesday underscored the need for expediting construction work of the Naf tourism cable car in Cox's Bazar to development communication between tourist spots in the tourist centre of the country.
Representatives of Bangla-desh Economic Zones Authority (BEZA) and Chittagong University of Engineering and Technology (CUET) participated in meeting.
Director of BRTC Professor Dr Md Hajrat Ali chaired the meeting, held at the conference hall of the administration building of CUET in the morning.
Vice Chancellor of CUET Professor Dr Mohammed Rafiqul Alam, BEZA deputy secretaries Md A Alim Khan, Md Mahabubur Rahman and Md Nasir Uddin Mahamud Chowdhury, CUET professors Prof Dr Mahamud Omar Imam and Prof Dr Kaji Delwar Hossain were also present and addressed the meeting.
The meeting also discussed the technical support provided by the CUET for conducting survey on the cable car project.
nazim07@yahoo.com
---
---
---