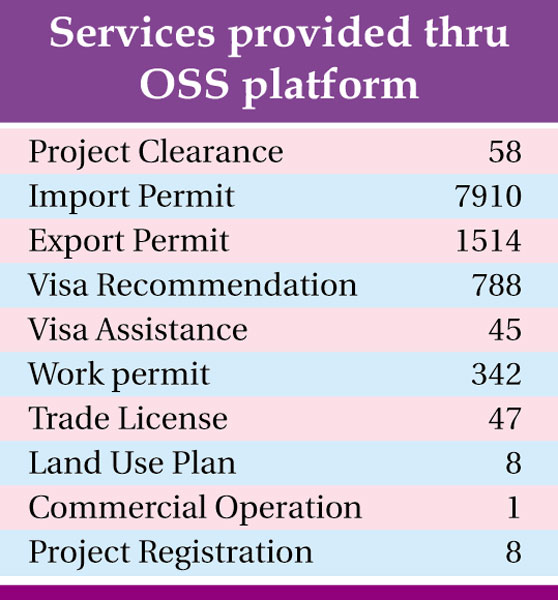 Bangladesh Economic Zones Authority (BEZA) is set to add six more services to its virtual One-Stop Service (OSS) platform this month, aiming to facilitate investment in the economic zones.
With the new ones, a total of 54 services related to operation of an industrial unit in the economic zone will be available online, officials familiar with the development said.
New services include no objection certificate (NOC) for establishment of power plant, NOC for construction of water treatment plant, NOC for construction of central effluent treatment plant, NOC for construction of sewage treatment plant, TIN certification and construction permit.
When contacted, BEZA Executive Chairman Paban Chowdhury on Monday said the investment promotion agency (IPA) is adding services as per its commitment to investors.
Unlike the IPAs in other countries such as India and Vietnam, BEZA is offering so many services from its physical and virtual OSS platforms, he added.
"IPAs in India and Vietnam provide only eight or nine online services for investors. But we are providing 48 services now and working continuously to add all required services."
Mr Chowdhury also said BEZA OSS platform is providing services on behalf of other government agencies in an effort to make the investment procedures hassle-free.
"Despite limitations, BEZA is delivering services related to taxation, company registration and environment clearance," he said, adding that OSS is saving time and money for service recipients.
Traditionally, an investor or an entrepreneur has to move to and from various government offices to start a business or set up an industry.
BEZA is offering 125 services related to making investment in the economic zones (EZs) from its brick-and-mortar OSS center located at its head office in the city's Kawran Bazar area.
Of the total, 48 types of services including project registration, project clearance, trade licence, import permit and export permit have also been made available on virtual OSS.
As of January 7 this year, BEZA OSS platform provided a total of 10,721 services including 58 project clearances, 7,910 import permits, 1,514 export permits, 788 visa recommendations and 342 work permits, according to the official data.
BEZA, an entity under the Prime Minister's Office (PMO), launched its OSS in October 2019. Since then, it has been adding more services to the platform.
The government enacted One-stop Service Act in February 2018 on the back of an initiative taken by BEZA in 2015.
This act ensures delivery of all services from a single point to investors from both physical and virtual platforms.
According to the law, if any government agency fails to provide certification or give approval within a stipulated time, the decision will be made in favour of investors.
In addition to BEZA, four other government agencies including Bangladesh Investment Development Authority (BIDA), Bangladesh Hi-Tech Park Authority (BHTPA), Bangladesh Export Processing Zones Authority (BEPZA) and Bangladesh Small & Cottage Industries Corporation (BSCIC) have been brought under the purview of OSS Act.