---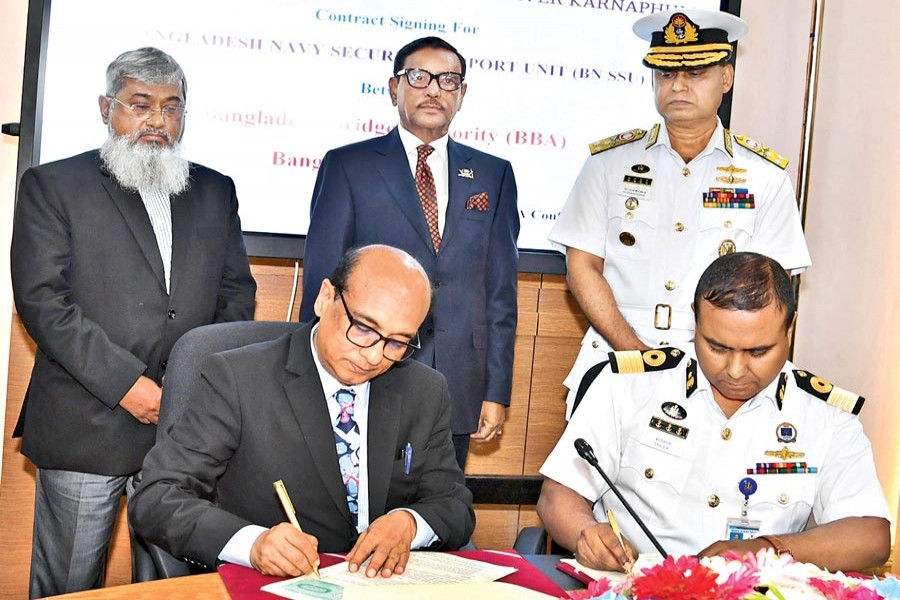 Road Transport and Bridges Minister Obaidul Quader witnessing the signing of a Tk 650 million contract on ensuring security and safety of the Karnaphuli tunnel during its construction period at Bangladesh Bridge Authority conference room in the capital on Monday
Boring work of the Karnaphuli tunnel, first of its kind in the country, will start on February 24.
Prime Minister Sheikh Hasina will inaugurate the boring work of the 3.4-kilometre tunnel during her visit to Chattogram.
Road Transport and Bridges Minister Obaidul Quader disclosed this while addressing a contract-signing ceremony on the security of the Karnaphuli tunnel on Monday.
Bangladesh Bridge Authority (BBA) and Bangladesh Navy signed a Tk 650-million contract at the BBA conference room to ensure the security and safety of the tunnel during its construction period for four years.
BBA Chief Engineer Kazi M Ferdous and Director of Naval Operation and Chief Coordinator of Safety and Security Supervision Consultant Commodore Mahmudul Malek signed the contract on behalf of their respective sides.
Obaidul Quader, also secretary general of the ruling Awami League, said assemblage of the tunnel boring machine under the river is now underway.
The tunnel has been proposed to be named after Bangabandhu Sheikh Mujibur Rahman, he said, adding that the proposal in this regard has been sent to the Prime Minister's Office for approval.
After completion, the minister said, the tunnel will help ease traffic gridlock and save travel time in the Chattogram city. Nearly 32 per cent work of the project has been completed, he added.
The minister along with Bridge Division Secretary Khandakar Anwarul Islam, Chief of Naval Staff AMMM Aurangzeb Chowdhury, high officials of Bridge Division, BBA and Bangladesh Navy witnessed the signing ceremony. Consultants and officials of the Chinese contractor were also present.
The naval chief said the Bangladesh Navy will work for the security and safety of the Karnaphuli tunnel during the construction period. It will also provide first aid service at the construction site.
The BBA is implementing the multilane road tunnel project under the River Karnaphuli which will consist of two tubes and 5.35-km approach roads on eastern and western sides.
The tunnel will connect Anwara upazila with Chattogram city and will help bypass highway traffic on Dhaka-Chattogram to avoid the port city to go to Cox's Bazar.