---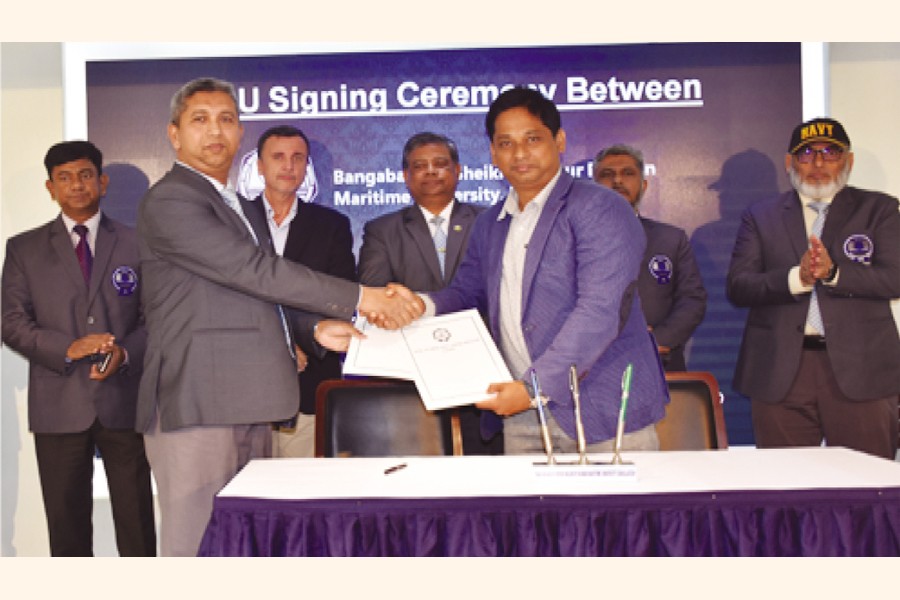 Vice Chancellor of Bangabandhu Sheikh Mujibur Rahman Maritime University (BSMRMU) Rear Admiral M Khaled Iqbal and Director of Chittagong Chamber of Commerce and Industry (CCCI) Iftekhar Hossain were present at the MoU signing ceremony on 'Academia Industries Relationship' at BSMRMU Dhaka campus on Wednesday
CHATTOGRAM, Sept 22: The Chittagong Chamber of Commerce and Industry (CCCI) and Bangabandhu Sheikh Mujibur Rahman Maritime University (BSMRMU) signed a Memorandum of Understanding (MoU) on "Academia Industries Relationship" to create skilled manpower for the blue economy in Bangladesh.
After holding a workshop on "Multi-StakeHolder Co-creation" at BSMRMU's Dhaka campus, the CCCI signed the MoU on Wednesday.
Vice Chancellor of BSMRMU Rear Admiral M Khaled Iqbal and Director of CCCI Engineer Iftekhar Hossain were present at the workshop and the MoU signing ceremony.
---
---
---
---