Elevated expressway in Ctg
CPA makes decisions on construction issues
---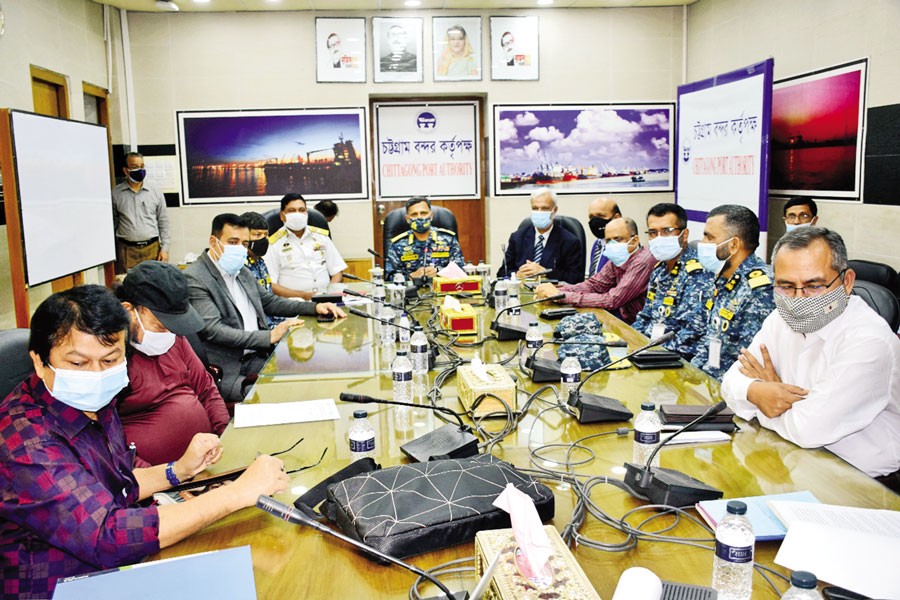 CPA Chairman Rear Admiral M Shajahan presiding over an urgent meeting on the issues related to the construction of an elevated expressway at the hall room of the CPA in Chattogram on Monday
CHATTOGRAM, Feb 23: The Chittagong Port Authority (CPA) held an urgent meeting at its hall room on Monday afternoon to discuss the issues of the elevated expressway being constructed from Lalkhan Bazar to Shah Amanat International Airport in the port city.
Chairman of the CPA Rear Admiral M Shajahan presided over the meeting.
Among others, Commander of Chattogram Naval Area Rear Admiral M Mojammel Haque and Chairman of Chattogram Development Authority (CDA) Zahirul Alam Dubash attended the meeting. Top officials of CDA, CPA and Bangladesh Navy were also present.
The meeting finalised the alignment of the expressway.
The meeting decided that the elevated expressway will be built according to the main design with pillars in the middle. No pillar will be constructed in front of the gates of the CPA and high fencing will be set up on the elevated expressway for security of the Chittagong port and its jetties.
Besides, CPA and Chattogram Metropolitan Police (CMP) will coordinate the traffic management during the construction of the elevated expressway in the port area.
Some other important decisions were also taken at the meeting to remove obstacles to the construction.
The construction work of the expressway has now been going on in full swing. The work in Agrabad and Barik Building area started in the second week of January this year.
Chairman of the CDA Zahirul Alam Dubash said, "The work of the expressway was delayed due to the objection from the Chittagong Port Authority. The CPA requested the CDA to ensure the security of the port during the construction. However, we have solved the problems and changed the design to ensure the security of the Chittagong port."
He added, "The construction work of the project started in February 2019 but remained halted from April to June last year due to coronavirus outbreak. Around 45 per cent of work has already been completed so far."
---
---
---
---