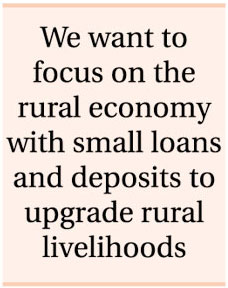 CVC Finance Ltd. wants to shift its corporate-centric focus to rural Bangladesh with the help of technology-based platforms.
Currently, the corporate segment of CVC Finance, a new generation non-bank financial institution, holds 85 per cent of the loans and lease portfolios with large and medium-sized corporate entities.
"We want to focus on the rural economy with small loans and deposits to upgrade rural livelihoods," said Syed Minhaj Ahmed, managing director of CVC Finance, in a conversation with the Financial Express.
"And we will take the help of payment service provider and mobile wallets to reach rural areas with regard to our shift to rural businesses like agri-farms, poultry, fisheries, etc," he said.
Generally, the financial institutions (FIs) tend to chase corporate depositors, but CVC Finance plans to reshape the scenario.
"Covid-19 showed us the adversaries ...We saw people's helplessness, people lost their jobs or business, so our focus is now on individual and small deposits," he said.
"With our five years' experience, we have undertaken projects aimed at offering customers a faster, better service at their doorsteps to be a service-oriented and technology-driven financial institution," he added.
CVC Finance Limited incorporated and obtained its licence from Bangladesh Bank in 2015. The current deposit portfolio of CVC Finance is more than Tk 1.50 billion. It has a lending portfolio of Tk 4.0 billion.
Mr Ahmed said currently it offers a wide range of deposit schemes, including the opportunity of doubling or even tripling money.
"Depositors can also secure loan facilities up to 90 per cent against the deposited amount in case of need," he noted.
He said CVC Finance deposit products range from regular term deposits to millionaire schemes to monthly installments based on deposit products.
The non-bank lender has regular term deposit products and income schemes for pensioners, who prefer periodic interest payments.
"Our diversified products consist of lease finance for the purchase of machinery and equipment, term-loans for business expansion, balancing, modernisation, rehabilitation, and expansion, infrastructure development, and work order finance for the existing reputed corporate clients," Mr Ahmed explained.
Highlighting the success as a financial institution, he noted his organisation received "A+" in long-term and "ST-2" in short-term credit rating.
'The current NPL rate is under 5.0 per cent, which is well below the industry average. We have a sound capital base of Tk. 1.15 billion as well," he added.
CVC Finance board is constituted by experienced professionals, businessmen who come from a diverse background bringing in a synergy in strategic decision-making.
For instance, the company's chairman Mahmud Hussain has two decades of wide-ranging local and global experience in financial services with exposure to organisations such as the World Bank, Deutsche Bank and Citigroup UK.
The combination of seasoned professionals and promising young minds brings in a unique poise and the established corporate and state-owned entities like Shadharon Bima Corporation, Investment Corporation of Bangladesh (ICB) reinforces its core strength.
Reputed local and foreign groups like Khan Brothers Ship Building Ltd, Amanat Shah Weaving Processing Ltd, Moon Ready wears Ltd, Padma Glass Ltd and Kowloon Capital Ltd, Hong Kong have taken stake in CVC Finance, he said.
Mr Minhaj said CVC Finance is one of the few NBFIs, who have collaborated with Bangladesh Bank to disburse loans under the refinancing scheme.
It also expanded multilateral collaboration with international organisations like OXFAM and DFID and successfully disbursed loans to rural people in the segments of agriculture, fish farming and aquaculture, poultry, etc, he added.