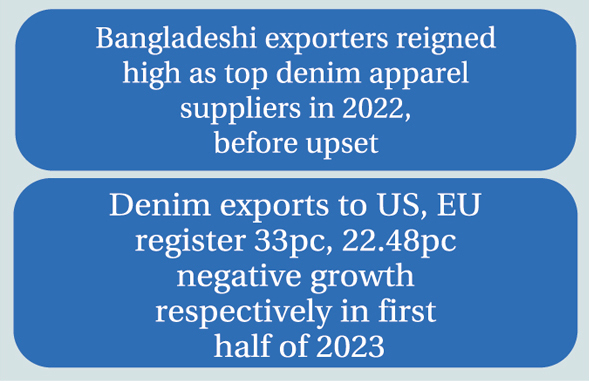 Bangladeshi-branded denim begins losing its shine -- after having reigned supreme on the global market in 2022 -- amid production-cost escalation for costly inputs.
Industry sources say Bangladesh is losing out competitive edge to its competitors like Turkey, Mexico and Pakistan mainly because of high cost of production, mainly pushed up by costly dollar.
The country dominated the global denim market with its sustained position as top supplier to two major export destinations -- the United States and the European Union-on a high annualised growth in 2022.
But, during the first half of 2023, denim exports to the USA and the European Union as a bloc saw 33-percent and 22.48-percent negative growth respectively, according to data compiled by Bangladesh Garment Manufacturers and Exporters Association (BGMEA).
Denim exports fetched Bangladesh US$298.75 million from the USA in January-to-June period of this calendar year -- down from 445.52 million in the corresponding period of last year.
Mexico, however, surpassed Bangladesh by bagging US$313.27 million during the period despite a negative growth of 13.50 per cent on a year-on-year basis.
Pakistan pulled in US$164.95 million from denim exports to the US market, yet marking a 32-percent negative growth.
Meantime, USA demand for denim garments declined 29.34 per cent as the country imported this apparel worth US$1.44 billion during the first half of 2023 in a dive from US$2.05 billion in the corresponding period, BGMEA data showed.
Also is marked a fall in EU's denim imports from the world by 17.19 per cent during the period.
Bangladesh exported denim wears worth US$537.14 million during the first half of 2023--down from US$692.89 million.
Turkey took US$488.41 million, recording an over 20-percent fall, and Pakistan earned US$328.29 million against US$410.49 million in the previous period.
Bangladesh had earned US$943.70 million and US$1.55 billion from US and EU markets respectively in 2022, turning out as top denim supplier, according to data.
The country earned US$561.29 million and US$798.42 million from the US market while US$1.02 billion and US$1.18 billion from the EU respectively in 2020 and 2021, data showed.
Talking to the FE writer, Kamran Sadique, director of MBM Group, said global demand for denim items decreased due to high inflationary pressure on the major western markets, fuelled by the Russian-Ukraine war. As impact of the war, oil prices have increased, resulting in a rise in cost of living in importing countries.
"As a result, consumers are prioritizing on basic needs like food, housing," he said.
MBM exports diversified goods, including both denim-and non-denim tops and bottoms, work wear, and kids' wear.
Echoing Mr Sadique's views, Shams Mahmud, managing director of Shasha Denims Ltd, says the global demand for all kinds of apparel has decreased, so the denim.
"And this is true for all major exporting countries. But Bangladesh is losing its competitive edge to its competitors as our cost of production has gone up significantly mainly because of the gas-price hike," he notes about the domestic headwind, too.
He used to pay Tk 8.0 million to 9.5 million in gas bill while the amount just doubled after the last gas hike.
"Turkey and Pakistan have been getting more work orders and even some orders from Bangladesh shifted there as both the competitor countries can offer lower price compared to Bangladesh due to their currency devaluation," Mr Mahmud says about the exchange-rate differentials.
On the other hand, exporters here in Bangladesh did not get the dollar at the rate the authority has fixed, he says, and shows a gap.
The problem is likely to persist until the government adjusts the rate with kerb market, he forecasts, citing as an example that exporters are getting Tk 110 per dollar while the market rate is Tk118.
Buyers are placing more orders with Turkey as it is near to them while the country has also increased its capacity, according to Mr Mahmud. Besides, Turkey can offer competitive price due to their currency devaluation
For the same reason, some orders are also shifting to Pakistan, which used to be previously placed with Bangladesh, he claims.
Shovon Islam, managing director of Sparrow Group, however, hopes orders will increase in the coming months ahead of the festivals like New Year and Christmas.
He further notes that buyers' inventory has also started decreasing.
Mr Sadique also notices trend of placing orders changing. "The long-run orders for single design will be replaced with minimum-order quantity with multi-styles," he explains.
To grab such orders, the production line has to be changed which they called 'modular system' with skilled workers who can perform multiple tasks, he suggests, adding that they are getting ready gradually with the transformation and applying sustainable production processes.
Responding to an FE query, BGMEA president Faruque Hassan stressed uninterrupted gas-and electricity supply to draw more investment in denim fabrics manufacturing.
He said, "More than 50 per cent of required denim fabrics are supplied by local textile millers while all types of denim fabrics are produced locally."
He, however, says rising domestic yarn price has eroded their competitiveness.
The BGMEA president also hopes denim exports will increase as buyers' stock of denim decreased.