---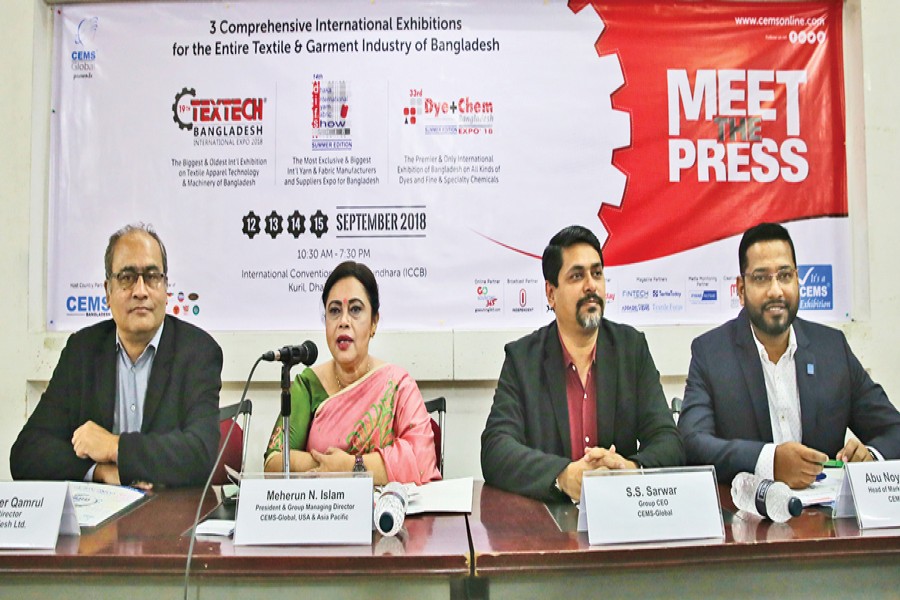 Meherun N Islam, president and group managing director of CEMS-Global USA and Asia Pacific, addressing a press conference in the city on Tuesday — FE photo
A four-day textile and garment exposition will begin in the city on September 12 to showcase the latest products and emerging technologies for the textile and garment industry.
The Conference and Exhibition Management Services Ltd (CEMS-Global) will organise three expositions titled Textech, Yarn & Fabric and DyeChem at the International Convention City Bashundhara in Dhaka.
This was disclosed at a press conference held at the National Press Club on Tuesday.
Meherun N Islam, president and group managing director of CEMS-Global USA and Asia Pacific, addressed the conference. Among others, Syed Tanveer Qamrul, executive director, CEMS Bangladesh, and SS Sarwar, group CEO, CEMS-Global, were also present.
The expositions--19th Textech Bangladesh International Expo, 14th Dhaka International Yarn and Fabric Show and 33th DyeChem Bangladesh Expo 2018 will open at 10.30am and run until 7.30pm everyday.
Around 1250 companies with 1500 booths from 25 countries across the globe will participate in this exhibition, organisers mentioned at the press met.
In the previous fiscal year, Bangladesh earned $30.61 billion which was 80.7 per cent of total yearly export income and 8.76 per cent of the gross domestic product (GDP), it added.
The exhibition will be the biggest networking place in Bangladesh for buyers and manufacturers and suppliers of equipment and technology of international yarn and fabric industry, they added.
Since its inception in 1992, CEMS Global in this span of over 26 years has made a commendable presence in South and South-East Asia, South America. Besides, it is running operations in eight countries and organising over 40 exhibitions per annum in all important sectors of trade and economy.