---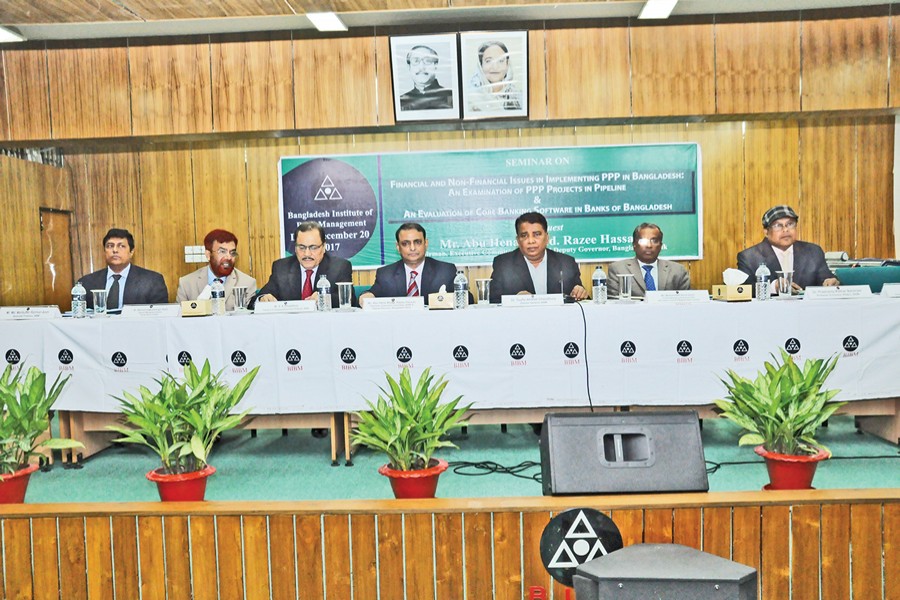 Discussants attend a BIBM seminar in the city on Wednesday.
A study of the Bangladesh Institute of Bank Management (BIBM) has identified a number of factors including selection of appropriate projects, unusual cost and corruption as key impediments toward implementation of Public-Private Partnership (PPP) projects.
Other barriers include non-completion of projects within the stipulated time, inadequate feasibility study, lack of monitoring from the government and poor capacity.
The BIBM Director (research, development and advice) Dr. Proshanto Kumar Banarjee presented the study titled 'Financial and non-financial issue in implementing PPP in Bangladesh' on Wednesday at a seminar at the BIBM auditorium in the city, said a press release.
The study was prepared based on the information from 65 institutions and organisations including banks, financial institutions, ministries and donor agencies, said the BIBM release.
Another study, which was also presented at the seminar, said different types of fraud and forgeries are often taking place due to use of low-quality software by banks.
Associate Professor of the BIBM Md. Mahabubur Rahman Alam presented the study titled 'An evaluation of core banking software in banks of Bangladesh'.
Bangladesh Bank (BB) Deputy Governor Abu Hena Mohd. Razee Hassan spoke on the occasion as the chief guest while former managing directors (MDs) of some commercial banks, Bangladesh Infrastructure Finance Fund Limited (BIFFL) executive director S M Formanul Islam and former executive director of the BB Yasin Ali, among others, attended the seminar.
Mr. Razee Hassan said over 47 projects have been taken up under the PPP initiative as it is not possible for the government alone to implement the infrastructure projects that the country needs to sustain its economic growth rate.
He also said there remain some challenges both for implementation and financing such projects.
Speaking on the occasion, former Sonali Bank MD S A Chowdhury said the information technology (IT) sector of banks is still under a threat in the absence of required manpower and investment by many banks.