---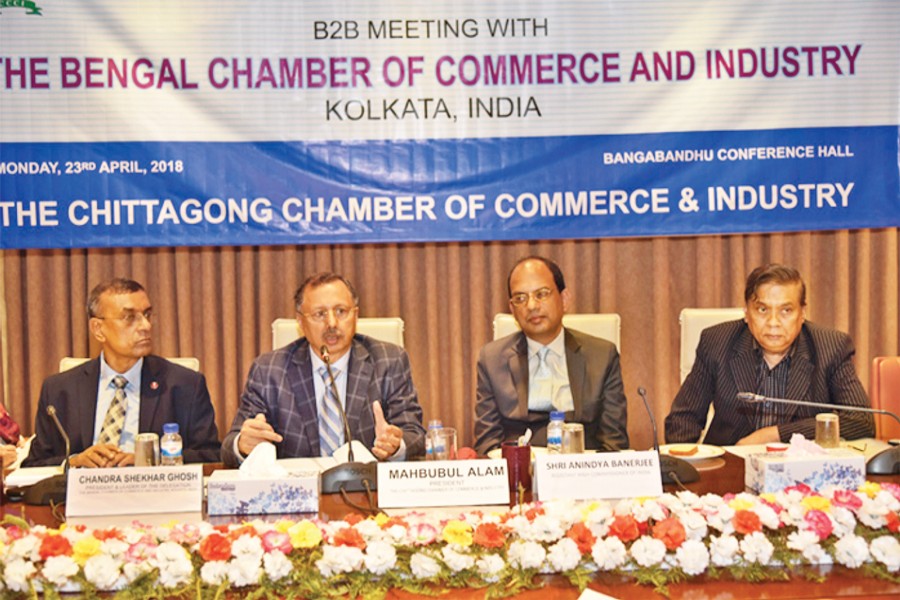 CCCI president Mahbubul Alam addressing the meeting with the visiting delegation of Bengal Chamber of Commerce and Industry (BCCI) from Kolkata, India, on Monday at the CCCI at World Trade Center in Chattogram
CHATTOGRAM, Apr 23: A delegation of Bengal Chamber of Commerce and Industry from Kolkata today visited the Chittagong Chamber of Commerce and Industry (CCCI) at the World Trade Centre in the city.
The 15-member delegation of the Indian businesses headed by its president Chandra Shekhar Ghosh is representing industrial sectors like food packaging, cement, steel, engineering, design and technology, real estate, education, media, pharmaceuticals, petro-chemical and LPG, manufacturing, IT and banking and non-financial institutions.
The Indian trade body leaders had a very effective meeting with the CCCI leaders chaired by its president Mahbubul Alam.
CCCI vice president Syed Jamal Ahmed, Indian Assistant High Commissioner Anindya Banerjee, former director Mahfuul Haque Shah and Habib Mohiuddin, leading trader Taher Sobhan, women chamber leaders Abida Mostafa and Munal Mahbub, IEB former president Engineer Md Harun and Khorsher Rahman spoke on the occasion.
Mahbubul Alam said bilateral trade relations between Bangladesh and India is very deep-rooted.
"We are eager to strengthen that relation by exporting greater volume of Bangladeshi goods to India. The two neighbouring countries can work together to remove the trade deficit while it is very imperative that the road communication be improved to the welfare of both the countries," the CCCI chief said.
Chandra Shekhar Ghosh said the economic relation between the two countries is currently very strong-footed than any time in the past. He asked the Indian entrepreneurs to invest in Chattogram, the major business hub of Bangladesh to help the economic growth of two countries.
Mr Ghosh also emphasized on improving the existing flight management between Chattogram and Kolkata. He will discuss the issue with proper authorities in Dhaka as well, he said.
Besides, India can cooperate in the agriculture sector of Bangladesh. Improved railway communication with Agartala and Kolkata via Akhaura will also help strengthen the trade ties between the two countries, he added.
Anindya Banerjee said Indian investment in three economic zones of Bangladesh is under active consideration of both the governments. Different Indian companies have already registered investment worth $ 3.0 billion. India can also provide $ 4.50 billion for improving the communication network of Bangladesh, he said.
He informed that the visa complications of India with Bangladesh have been removed and as many as 0. 18 million visas have been issued for the Bangladeshis this year. In near future, an information centre will be set up in Kolkata to further facilitate the movement of common people between the two countries, he added.