---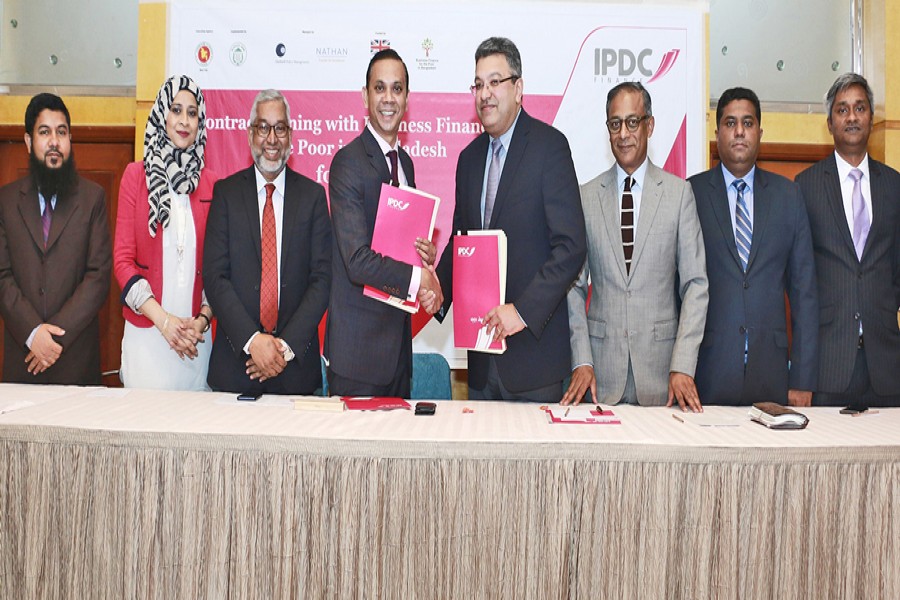 Managing director and chief executive officer (CEO) of IPDC Finance Ltd Mominul Islam and team leader of the BFP-B Feisal Hussain posing with others at the exchange of document session during an agreement-signing ceremony in the capital on Tuesday — FE photo
IPDC Finance Limited, Bangladesh's first non-banking financial institution (NBFI), has moved one step ahead to launch the country's first digital supply chain finance platform with 'Blockchain' technology to offer easy and low-cost credit to micro and small enterprises (MSEs).
For developing such online-based financing mechanism, which is named IPDC-Orjon, IPDC Finance Ltd signed a grant contract with Business Finance for the Poor in Bangladesh (BFP-B) at a hotel in the capital on Tuesday.
Addressing the agreement-signing ceremony, officials involved with the initiative said shifting from traditional and manual lending practices, IPDC took the comprehensive supply chain financing solution which will enable MSEs to get easy and collateral-free finance through factoring, reverse factoring, work order and distributor financing.
Managing director and chief executive officer (CEO) of IPDC Finance Ltd Mominul Islam said they want to create a holistic supply chain financing eco-system in the country where access to credit for MSEs is not easy.
He said some financial institutions are providing financial support to micro enterprises in a limited scale but they cannot go to the small enterprises requiring funds ranging from Tk 50,000 to Tk 100,000 due to high monitoring and transaction costs.
"With this kind of financing tool, we can easily reach out the groups. We have a target of reaching 2,500 and 25,000 in next two and five years respectively. At the same time, we can connect other financial institutions in our service network," he said.
Mominul Islam said manually-given financial service will not be adequate to reap maximum benefits of the supply chain financing. "We need digital or online platform to bridge corporate or purchaser, supplier or distributor and financial institutions."
He also informed that they will soon sign another agreement with IBM, India to avail expertise and knowhow of the global tech firm to develop such lending facility.
Buddhika Samarasinghe, Director, Nathan Associates London Ltd (an authorised agent of Department for International Development) said they partnered with the IPDC to provide financial help to Bangladeshi MSEs from the challenge fund.
"It (the fund) is looking at innovation, social impacts and things which will be profitable for others. I hope IPDC project will be a landmark one in the way that challenge fund can go," he added.
Feisal Hussain, team leader of the BFP-B, said the new lending system will ensure access to credit for small enterprise and to cut down the cost of processing loan by half.
"So, it's a kind of solution that will further accelerate the faster growth of MSEs in Bangladesh," he said.
According to the IPDC officials, the suppliers or distributors do not need to come to office and officials do not need to go to the doorsteps of the loan applicants for anything like physical verification.
In the platform, applicants need to submit payment document, bill or work order whatever they have through online and the system will automatically verify the documents and the business relation of the applicant with the corporate body. It would take three working days to approve fund beyond Tk 50 million (tk 50 lakhs), according to them.
President of supply chain management society and Director of Corporate affairs of Nestle Bangladesh Limited Naquib Khan and senior IPDC officials were also present at the signing ceremony, among others.