---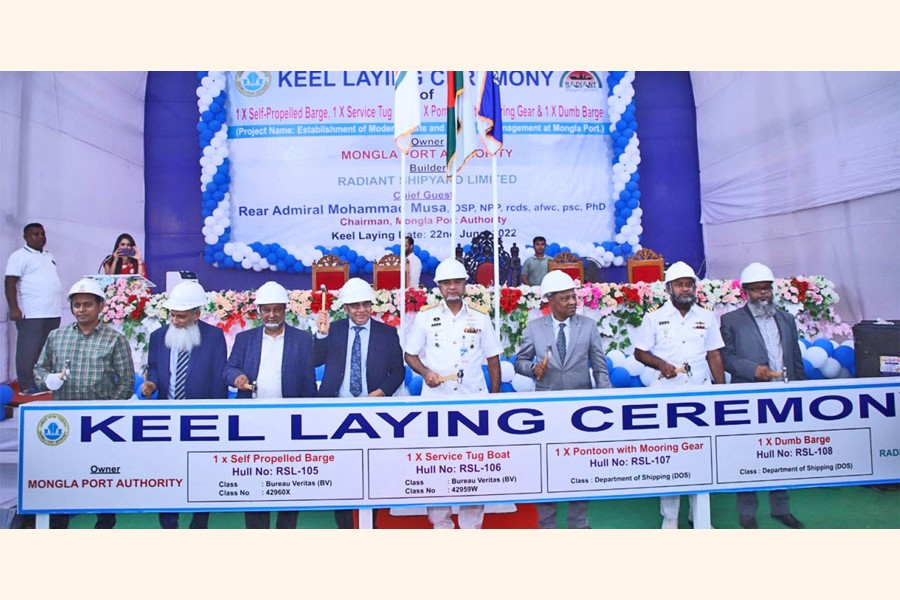 Chairman of MPA Rear Admiral Mohammad Musa, Managing Director of RSL AKM Alauddin and senior officials of both organisations were present at the keel laying ceremony
The keel laying ceremony of one self-propelled barge, one Tug, one Pontoon and one dump barge to be constructed for Mongla Port Authority under the project ''Establishment of Modern Waste and Spilled Oil Management at Mongla Port.'' was held at Radiant Shipyard Ltd, Daudpur, Rupgonj, Narayangonj on Wednesday, says a press release.
In the keel laying ceremony, Chairman of MPA Rear Admiral Mohammad Musa, Managing Director of RSL AKM Alauddin and senior officials of both organisations were present.
This project is a significant step taken by the present government to protect Mongla Port and its river and the biodiversity of the world heritage site Sundarbans from the oil and waste contamination by foreign ships arriving at Mongla Port and by the small and large vessels plying in and around the "Poshur channel" and rivers.
---
---
---
---