---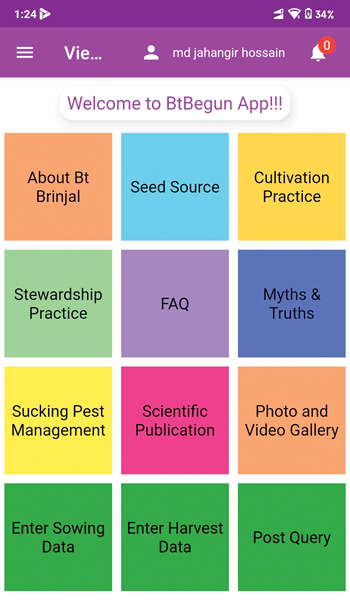 A free mobile app, namely 'Btbegun', developed by the Feed the Future (FtF) South Asia Eggplant Improvement Partnership, was launched on Tuesday in the Google play store, says a statement of the Bangladesh Agricultural Research Institute (BARI).
An iPhone version of the app is also under development.
This new app is set to streamline information-sharing during the Covid-19 pandemic and beyond for farmers growing one of the most important crops for food security in Bangladesh.
The new app provides farmers, extension professionals, field officers, policymakers, seed suppliers and other stakeholders with the most current information about Bt eggplant - a genetically engineered variety resistant to a ravenous insect that destroys crops in the field before harvest.
BARI Director General Dr. Md. Nazirul Islam inaugurated the app through the Zoom platform. Director General of Department of Agricultural Extension (DAE) Dr. Md. Abdul Muyeed, Additional Director (Monitoring and Implementation) of DAE Shah Md. Akramul Haque, Project Director and researcher in Cornell University's Department of Global Development Maricelis Acevedo, Country Coordinator of FtF Bangladesh Project Dr. Md. Jahangir Hossain, Chief Scientific Officer of the Biotechnology Division of BARI Dr. Md. Abdullah Yusuf Akhond, Feed the Future project personnel and USAID Bangladesh representatives participated in the app launching ceremony.
A FAQ section will dispel common myths surrounding Asia's only genetically-engineered food crop. In the recently-concluded season, more than 30,000 farmers in Bangladesh were growing four varieties of Bt eggplant.
---
---
---