Exports of processed food items declined substantially so far this fiscal year (FY) due to higher operating costs and raw material prices than the competitors.
The export earnings fell 11 per cent to US$ 386 million in the first seven months (July-January) of the current fiscal year (2019-20) as compared to that of the same period previous FY, according to the Export Promotion Bureau (EPB).
The earnings were also 15 per cent lower than the period's official target.
The export of processed and dry food items earned an all-time high of $700 million in FY 2018-19.
Bangladesh exports vegetables, processed and dry foods, fruits, tobacco, flower and foliage, spices etc. to 130 countries, according to Bangladesh Fruit, Vegetable and Allied Products Exporters' Association (BFVAPEA) and Bangladesh Agro-Processors' Association (BAPA).
Kingdom of Saudi Arabia, UAE, Qatar, Bahrain, Oman, Singapore, Malaysia, Hong Kong, UK, Italy and France are the leading importers.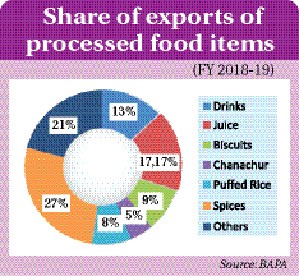 The country's agro-processing sector is a $ 3.2 billion industry in terms of annual turnover, including $700 million in export earnings.
More than 250 agro-processors fetched 81 per cent of the total export earnings ($ 908 million) from agriculture produce in FY 2018-19, according to BAPA.
The demand for locally manufactured spices, biscuits, juices, puffed rice and drinks is growing fast abroad thanks to a large population of the non-resident Bangladeshis (NRBs).
Asked about the fall in export earnings, senior vice president of BAPA SM Jahangir Hossain, said: "The competitor countries like India has increased its export volume in recent time, affecting our exports."
He said the production cost is much lower in India as their raw material prices are more competitive.
"If we produce puffed rice, we have to buy rice at Tk 40 a kg as against only Tk 30 for the Indian producers," he said. He added that the operating cost is also higher by Tk 5.0-10 a kg in our country which is also a reason for the decline in exports.
"However, we will be able to overcome it within few months after reducing the interest rate on bank loans," he said, adding that the single-digit interest rate would help us make more competitive.
Mr. Hossain said that apart from our traditional markets in the Middle-East, EU, Malaysia and Singapore, new markets have also been emerged in recent years in some African and Latin American countries.
"The new destinations would also help us boost exports," he added.