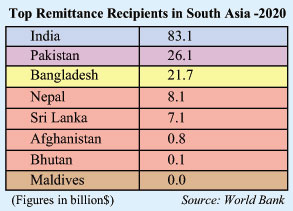 The inflow of remittance into Bangladesh grew by 18.4 per cent to US$21.7 billion in 2020, defying the gloomy projections and inspite of the ongoing Covid-19 pandemic globally.
This growth in inward remittances from Bangladeshis working abroad in the last calendar year was much faster than 5.2 per cent increase in flows to South Asian countries, according to the latest Migration and Development Brief published by the World Bank.
Earlier, the Washington-based international financial institution had forecast a significant decline in remittances to Bangladesh and other countries in the region because of the Covid-19 pandemic that forced nations across the world to lock down their economies and send migrant workers back home to their countries of origin.
"Inward remittance flows to South Asia rose by more than 5.0 per cent in 2020, driven by a surge in flows to Bangladesh and Pakistan," the World Bank said in the report.
Bhutan and Sri Lanka also posted strong gains last year while India and Nepal experienced a small drop in remittances, it added.
The World Bank report said the main drivers for the steady flow included fiscal stimulus that resulted in better-than-expected economic conditions in the host countries, a shift in flows from cash to digital and from informal to formal channels, and cyclical movements in oil prices and currency exchange rates.
The true size of remittances, which includes formal and informal flows, is believed to be larger than officially reported data, though the extent of the impact of Covid-19 on informal flow is unclear, according to the report.
Meanwhile, the World Bank has projected that remittances to the South Asia region will slow slightly to 3.5 per cent in 2021 from 5.2 per cent of the previous calendar year due to a moderation of growth in high-income economies and a further expected drop in migration to the Gulf Cooperation Council (GCC) countries.
In India, the region's largest recipient country by far, remittances fell by just 0.2 per cent in 2020 to $83 billion. Much of decline was due to a 17 per cent drop in remittances from the United Arab Emirates, which somewhat offset resilient flows from United States and other host countries.
In Pakistan, remittances rose by over 17 per cent to a record high of $26.1 billion; remittances from Saudi Arabia increased by over 46 per cent, from European Union countries by 25 per cent, and from the United Arab Emirates by 19 per cent.
In Bangladesh, remittances also showed a brisk up tick in 2020 (18.4 per cent), and Sri Lanka witnessed remittance growth of 5.8 percent.
"The volume of remittances to Bangladesh, Pakistan, and Sri Lanka in the first quarter (Q1) of 2021 indicates that this increase is sustained," the World Bank noted.
The higher inflow of remittance has helped the country's central bank prop its foreign exchange reserves to a record high, supporting the current account balance that has posted a surplus of $1.56 billion in the first eight months of the current fiscal year.
Bangladesh's forex reserves rose to $44.55 billion on Tuesday from $44.53 billion in the previous working day, according to the central bank officials.
Analysts believe that the government's incentives along with the competitive attitude of some banks have helped achieve the higher growth of inward remittances in 2020.
They also expect the existing trend in inward remittances may continue in the coming months as the government has continuously provided 2.0 per cent incentive to the beneficiaries against remittance and the stable exchange rate of Bangladesh Taka (BDT) against the greenback.
On the other hand, the region saw a surge of returning migrant workers last year due to the health and global economic consequences of the Covid-19 pandemic.
In 2020, the number of Bangladeshi migrant workers fell to 218,000, a drastic drop from the previous annual average of 700,000 to 800,000.
About 67 per cent of Bangladeshi expatriate workers who were forced to return home were not paid wages, and 62 per cent had to leave behind savings and other assets, according to the World Bank.
It is also reported that more than 70,000 Bangladeshi migrant workers were infected with coronavirus in 186 countries by July 2020, and a total of 2,330 Bangladeshis had succumbed to Covid-19 in 21 countries as of December 2020, reflecting a lack of free access to proper healthcare.