AKM Salim Osman has been re-elected the president of the Bangladesh Knitwear Manufacturers and Exporters Association (BKMEA) for 2021-23 -- his sixth term in a row.
Names of the newly elected 35 members of the board of directors were announced at the trade body's Dhaka office in the city on Monday, according to a BKMEA statement.
Mohammad Hatem and Mansoor Ahmed were elected the executive president and the senior vice president - the two newly created posts - respectively.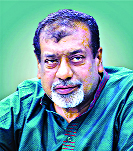 AKM Salim Osman
The vice presidents for the 2021-23 terms are Fazlee Shamim Ehsan, Amal Podder, Gauhar Siraj Jamil, Akhter Hossain Apurbo, Ashikur Rahman and Morshed Sarwar Sohel (finance).
The BKEMA in its last annual general meeting increased the number of its director posts to 35 from 27, creating two new posts and incorporating the newly created posts in its memorandum.
On August 14, the BKMEA at its 10th board meeting formed an election board and an election appeal board for the biennial election for the term of 2021-23 scheduled for November 12.
According to the election schedule, announced on August 17, the nomination paper collection dates were set for October 3 and 4.
However, only the Sammilita Knit Forum submitted nomination papers of 35 candidates' on October 07, according to the statement.
On October 10, the election board announced the 35 candidates' names finally.
As per the Trade Organisation Ordinance, Sammilita Knit Forum led by Mr Osman were elected unopposed as there were no opponents, the statement added.