---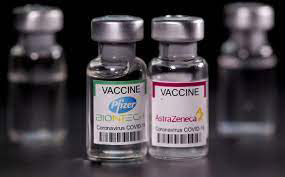 RIYADH, Sept 14 (Arab News): Saudi Arabia is expected to sign agreements with international pharmaceutical companies, among them AstraZeneca and Pfizer to manufacture Covid-19 vaccines locally, as part of the activities of the Riyadh International Summit for Medical Tech-nology, Asharq reported.
The summit will start today in Riyadh, in the presence of the ministers of finance, investment, health and industry.
Memorandums of un-derstanding will be signed in the field of pharmaceutical manufacturing and medical technology between a number of international companies specialised in these fields and between the Ministry of Investment and Health Affairs at the Ministry of National Guard, sources told Asharq.
The summit is scheduled to discuss scientific topics, such as opportunities and challenges related to medical biotechnology in Saudi Arabia, the investment strategy towards medical biotechnology, and the role of biotechnology in developing drugs, vaccines, and cellular and genetic therapies.
---
---
---
---