---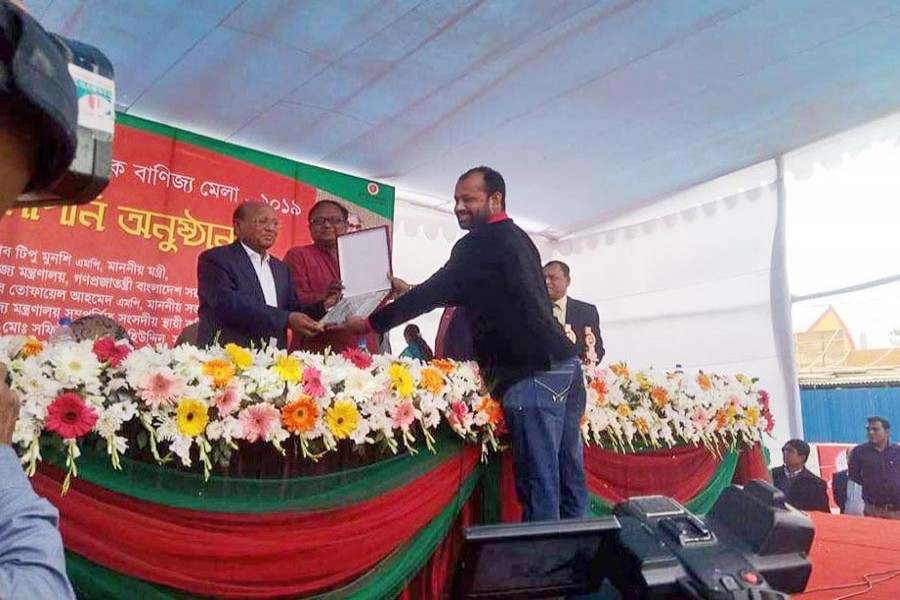 Commerce Minister Tipu Munshi and former Commerce Minister Tofail Ahmed handing over the honorary crest to the Sharika Fantasy Imaging World Park CEO Mahbubur Rahman Polash at the concluding ceremony of DITF recently
'Sharika Fantasy Imaging World Park' has received the honorary award for the fourth time as the park offered free entertainment to autistic children at the 24th Dhaka International Trade Fair (DITF), reports BSS.
Commerce Minister Tipu Munshi and former Commerce Minister Tofail Ahmed handed over the honorary crest to the park's chief executive officer (CEO) Mahbubur Rahman Polash at the concluding ceremony of the trade fair on Saturday, said a press release.
Talking to the news agency, Polash said he had been providing the opportunity to the autistic children since 2012 by taking inspiration from the world renowned autism activist Saima Wazed Putul, the daughter of Prime Minister Sheikh Hasina and a member of World Health Organisation's 25-member Expert Advisory Panel on mental health.
He said, "I started amusement park at DITF in 2012. At that time, no autistic child was allowed to get on the rides. I was hurt to notice the discrimination among children. From then on, I offered free rides for autistic children at the DITF."
---
---
---
---