---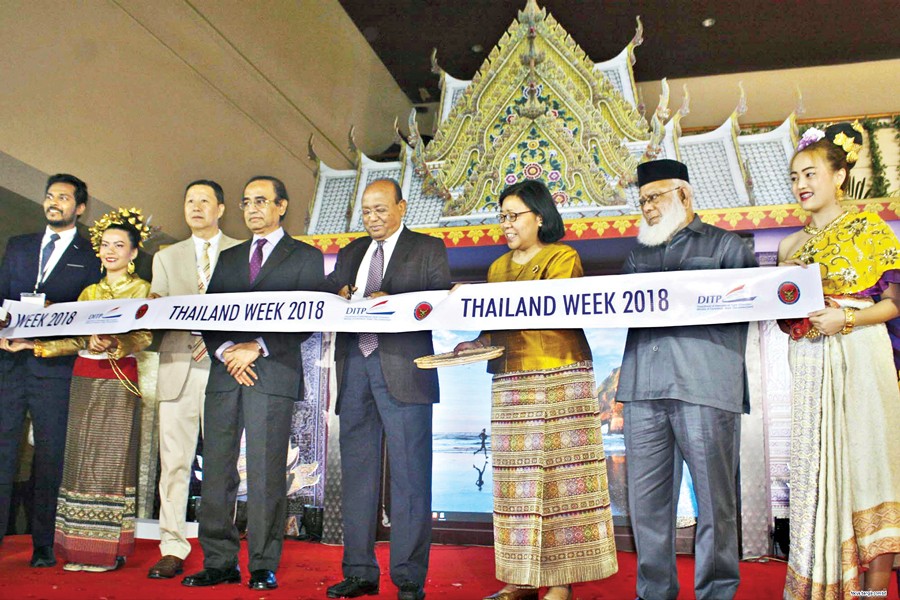 Commerce Minister Tofail Ahmed along with ICC Bangladesh President Mahbubur Rahman and other guests inaugurating the 'Thailand Week 2018' at Sonargaon Hotel in the city on Monday — Focus Bangla
Commerce Minister Tofail Ahmed on Monday called on the Thai government to provide duty-free access for some Bangladeshi products and simplify the visa procedure.
The two-way trade between Bangladesh and Thailand continues to grow and it would be strengthened further in the coming years, the minister said at the inaugural ceremony of a trade fair styled as 'Thailand Week 2018' at Sonargaon Hotel in the city.
The Department of International Trade Promotion (DITP), Ministry of Commerce, Royal Thai Government, and the Royal Thai Embassy organised the four-day trade fair.
Thai Ambassador to Bangladesh Ms. Panpimon Suwannapongse, ICC Bangladesh President Mahbubur Rahman and Minister Counsellor (commercial) of Royal Thai Embassy Suebesak Dangboonrueng attended the inaugural ceremony.
Tofail Ahmed said, "The Thailand government should liberalise visa process for business community, travel-loving people of our country and those who want to go to Thailand for treatment purposes."
He also said that at a meeting with the Thailand commerce minister, he talked about duty-free access or reduction in duty for some products.
Terming Thailand a good friend, he said the trade between the two countries is growing every year.
Speaking on the occasion, Ms Panpimon Suwannapongse said the event was being organised for the last 16 years, which is another indicator of the growing commercial relations between Thailand and Bangladesh.
"The trade show features a wide range of quality Thai products and services, which we are proud to introduce them to Bangladeshi people," she said.
"It also presents a good opportunity for both Thai and Bangladeshi firms to identify business partners in the Bangladeshi markets," she added.
Over the last few years, the two countries have enjoyed a robust bilateral trade. Last year, the two-way trade volume stood at $1.31 billion, up from around $ 1 billion in 2016, said the ambassador.
She also hoped that Thai-Bangladeshi trade would reach $2 billion by 2021, a target set by the Thai-Bangladeshi Joint-Trade Committee meeting last year.
Some 45 Thai companies and 27 Bangladeshi organisations have taken part in this trade show.
Auto parts, industrial equipment and hardware, tropical fresh fruit, food and beverage, housewares, tropical fresh fruits, gift and decorative items, stationery, baby products, garments, jewellery, footwear, health and beauty products are being showcased at the fair.
During the fair, Thai artistes will present cultural show, fashion show and live music every day.
The fair will remain open for all from 11:00am to 9:00pm daily.