StaChart, Obhizatrik Foundation distribute fresh food packages among people
---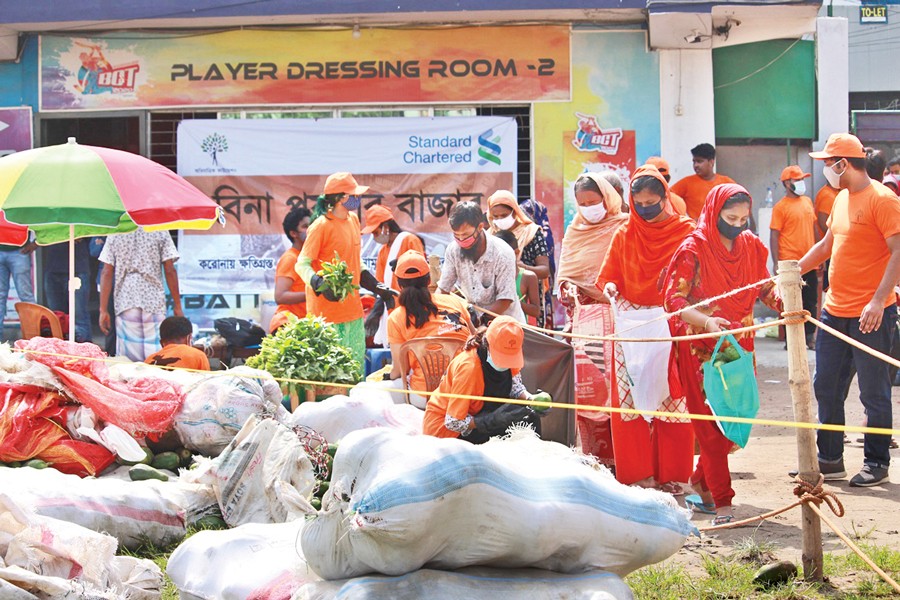 Standard Chartered Bangladesh and Obhizatrik Foundation distributed fresh food packages among distressed communities in Dhaka and Chattogram recently
Standard Chartered Bangladesh has partnered with Obhizatrik Foundation to distribute fresh food packages consisting of organic fruits and vegetables to serve the immediate needs of distressed communities in Dhaka and Chattogram, said a press release.
Under the initiative, the food packages will reach 40,000 families, supporting 200,000 direct beneficiaries. The produce would be sourced directly from 200 rural smallholder firms, sustaining employment for around 2,000 workers.
Depressed economic activity as a result of the pandemic continues to put distressed communities in a twin jeopardy, where they must face the threat of a pandemic while their livelihoods remain uncertain.
Informal and casually employed workers are particularly vulnerable.
Through this partnership, the bank hopes to build a sustainable linkage between vulnerable individuals with diminished purchasing power and smallholder farmers facing a dearth of demand for their produce.
The food packages will include a range of fresh vegetables and fruits, including sweet pumpkin, bitter gourd, gourd, green chili, potato, spinach, eggplant, cucumber and seasonal fruits.
Each package will consist of 5kgs of fresh organic produce. The produce will be distributed through Obhizatrik Foundation's "Bina Poyshar Bazar" platform, at locations across Dhaka and Chattogram.
Naser Ezaz Bijoy, CEO, Standard Chartered Bangladesh, and Ahmed Imtiaz Jami, president of Obhizatrik Foundation, spoke on the occasion.
---
---
---
---