---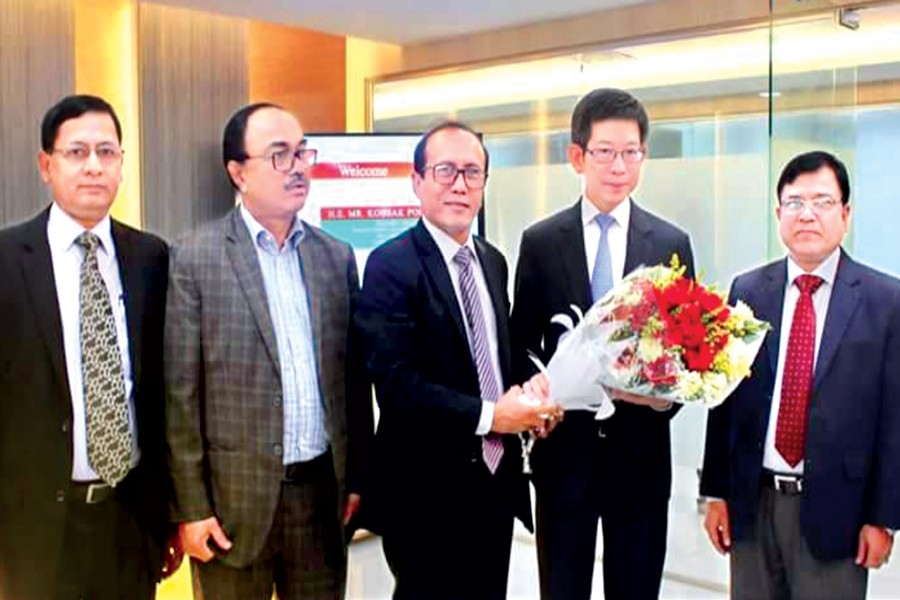 BEZA Executive Chairman Paban Chowdhury receiving Thai Minister for Economic Reforms and Investment Dr Kobsak Pootrakool at the BEZA office in the city on Wednesday
Thailand's Minister for Economic Reforms and Investment Dr Kobsak Pootrakool on Wednesday said Thailand can be the gateway to Southeast Asia for Bangladesh and vice versa, reports UNB.
He made the remarks during his visit to the Bangladesh Economic Zones Authority (BEZA) office in the city.
BEZA Executive Chairman Paban Chowdhury received the minister and Thai business delegation at its office. They took a great interest in the incentives offered by BEZA, saying it offers great opportunity to invest.
Considering Bangladesh as an attractive investment destination, the Thai minister agreed to consider a memorandum of understanding (MoU) between BEZA and Thai Industrial Promotion Unit proposed by Bangladesh.
The Thai minister is leading a high-profile 30-member business and investment delegation to Bangladesh.
This is the largest ever Thai business delegation to Bangladesh, including Secretary General of Thailand Board of Investment and high officials from Royal Thai Government, which will explore new areas of cooperation until May 4.
Commissioned under the political directives of Thailand's Prime Minister Prayut Chan o-cha, the official visit by Dr Kobsak is being considered politically most significant in the trade and economic relations between the two Bay of Bengal countries, indicating Thailand's new economic interests in the Bangladesh market.
The Thai minister and his large entourage will also visit few industries and special economic zones to explore potential areas of upcoming Thai investments.
The high-powered business and investment delegation will also attend business dialogues and business matchmaking with Bangladeshi businessmen organised by apex business body FBCCI and the Bangladesh-Thai Chamber of Commerce Industry (BTCCI) to explore possible new product lines for exports and Thai investment in Bangladesh.
Apart from the business and investment engagement, Thai Minister Pootrakool will make courtesy calls on Commerce Minister Tofail Ahmed, Foreign Minister Abul Hassan Mahmood Ali and State Minister for Finance and Planning MA Mannan.
Terming the visit as historic in trade and economic relations between Bangladesh and Thailand, Bangladesh Ambassador to Thailand Saida Muna Tasneem has said the Royal Thai Government is taking a renewed interest to strengthen economic, trade and connectivity relations with Bangladesh.
Dr Kobsak Pootrakool looks after economic reform, National Board of Development and economic zones and Board of Investment under the direct guidance of Thai Prime Minister Chan-o-cha and has in his agenda a Free Trade Agreement, Coastal Shipping MOU and road connectivity with Bangladesh.