---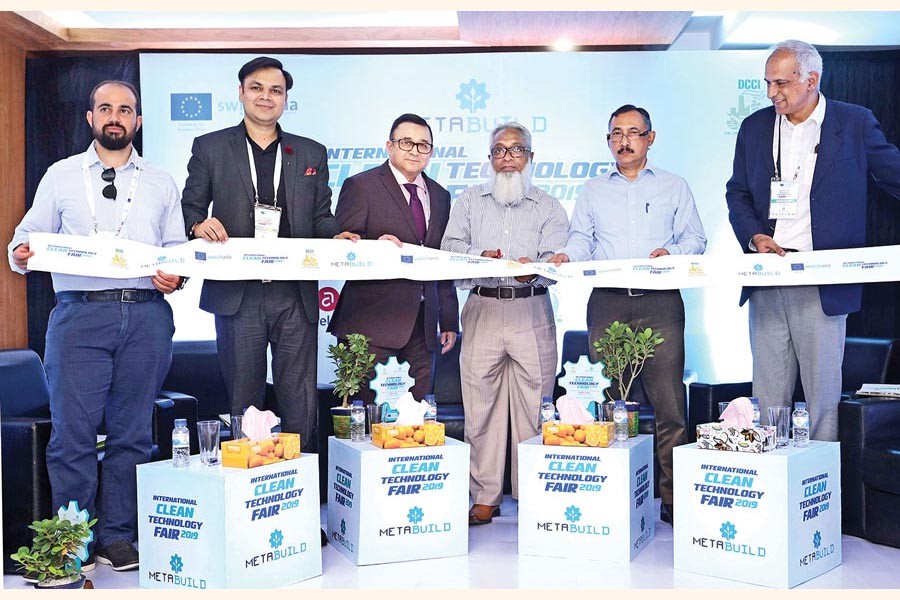 Chairman (Additional Secretary) of Sustainable and Renewable Energy Development Authority (SREDA) Md. Helal Uddin (3rd from R) inaugurating a two-day "International Clean Technology Fair" at the Institute of Diploma Engineers Bangladesh (IDEB) in the capital on Wednesday
Speakers at an event on Wednesday laid emphasis on using modern technologies to reduce energy consumption in the industries.
There are more than 150 technologies which could help reduce the energy consumption without hampering production, they recommended, stressing the need for ensuring energy efficiency and investing more on innovative technology for addressing the climate change issue and achieve sustainable development.
The speakers came up with the views at the inaugural function of the event titled 'International Clean Technology Fair', organised by Dhaka Chamber of Commerce and Industry (DCCI) under its METABUILD project at the Institute of Diploma Engineers Bangladesh (IDEB) in the city.
The two-day fair continues till today (Thursday).
The resource- efficient supply chain for metal products in building sector in South Asia (METABUILD) project is funded by the European Union.
Senior vice-president of DCCI Waqar Ahmad Choudhury in his address of welcome said the METABUILD project is working with 250 metal and steel industries to motivate them to use resource-efficient cleaner production.
The objective of the project is to reduce waste emission and increase resource-efficiency in metal component of small and medium enterprises (SMEs) from the building and construction sector, he said.
"If we can ensure energy efficiency in our industries, 25 per cent of the existing energy consumption can be saved," he added.
Chairman (additional secretary) of Sustainable and Renewable Energy Development Authority (SREDA) Md. Helal Uddin, chief guest of the event, said that the industries in our country started using sustainable technology as the government formulated policies in this regard.
"We have to use cleaner sustainable technology in a planned manner," he said.
The cost of production in industries could be reduced through energy-efficient technology, renewable energy, industrial waste management, metal industry process management, metering and data management, he said, calling upon the entrepreneurs to invest in innovative technology.
SREDA Member (Additional Secretary) Siddique Zobair said that SREDA is promoting energy efficiency in industries as the development should take place in a sustainable manner.
"Not only the cost saving issues, energy efficiency needed also to fight against climate change issues," he added, expressing the SREDA's interest to work with the business community.
Senior technical expert of METABUILD Rajat Batra said that this project is also in operation in Sri Lanka and Nepal.
DCCI vice- president Imran Ahmed offered vote of thanks while directors Kh. Rashedul Ahsan and Enamul Haque Patwary, among others, were present.