---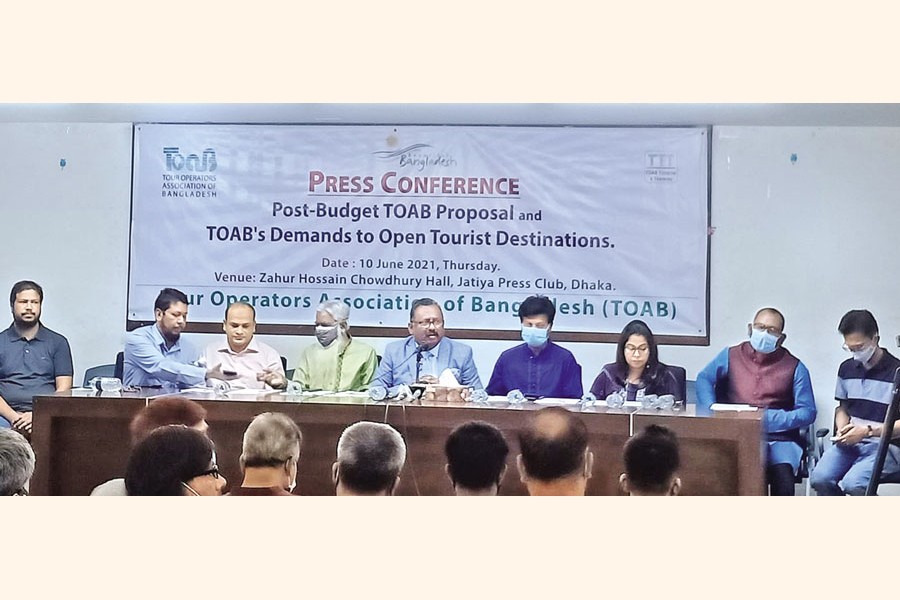 TOAB President Md. Rafeuzzaman, its Director Mohammed Shahed Ullah, First Vice President Shiblul Azam Koreshi and Vice President Abul Kalam Azad attended a press conference at the National Press Club on Thursday
The tour operators on Thursday urged the government to immediately allow opening the domestic tourism spots in the country to help the sector survive.
Resuming their operation subject to following the Covid-related health guidelines has become crucial for the sustainability of many allied businesses, they said.
The Tour Operators Association of Bangladesh (TOAB) also urged the government to provide the local tourism sector with fund under stimulus packages, reduce the trade license renewal fee and vaccinate the people working in the sector on priority basis.
The trade body also demanded for a separate ministry for the tourism sector so that it can duly address the sector's challenges.
The TOAB leaders came up with the appeal at a press conference held in the National Press Club.
TOAB President Md. Rafeuzzaman, its Director Mohammed Shahed Ullah, its First Vice President Shiblul Azam Koreshi and Vice President Abul Kalam Azad attended the conference among others.
Mr Rafeuzzaman said the struggling sector had started recovering from the Covid-induced setback through resuming domestic operations following the ease of lockdown last year.
But the ongoing lockdown imposed due to the second wave of the pandemic is now taking an enormous toll on the sector due to closure of the tourist destinations, he added.
Almost all other economic activities like shopping remain operational, he pointed out, arguing the need for allowing the tourism sector too to operate subject to following the health protocol.
"All those involved in the sector have lost more than Tk 200 billion due to the adverse impact of spreading coronavirus in the country last year. Only the TOAB members lost Tk 57 billion," said the trade body chief.
Given that the current situation continues till December next, the amount of loss could be amounted to more than Tk 90 billion, he estimated.
About 4.0 million people involved in this industry were now living inhumane lives, he said, adding that the tour operators are yet to receive any fund from the government's stimulus packages.
Mr Rafeuzzaman said that the trade body made several approaches since the beginning of the pandemic to get low-cost funds. "We could not take any kind of bank loan even though it was included in the service sector."
Since the government has allowed transports, shops and everything else, he said it would also be reasonable to open the tourist spots subject to compliance with the health guidelines and standard operational procedure or SOP.
Mr Shahed Ullah read out a written statement at the conference, saying that Tk 40.32 billion has been allocated for this sector in the proposed budget, which is Tk 3.44 billion more than the previous budget.
He said tourism is the third largest industry in the world while the sector contributed 4.7 per cent to Bangladesh's GDP in 2019.