Leaders of South Asian countries together announced an emergency fund in the middle of March, 2020,to address the Covid-19 impacts. Its objective was to tackle risks associated with the pandemic. India announced US$10 million assistance to the emergency fund, which was worth US$21.8 million with contribution from seven countries. Bangladesh announced its contribution of US$1.5 million.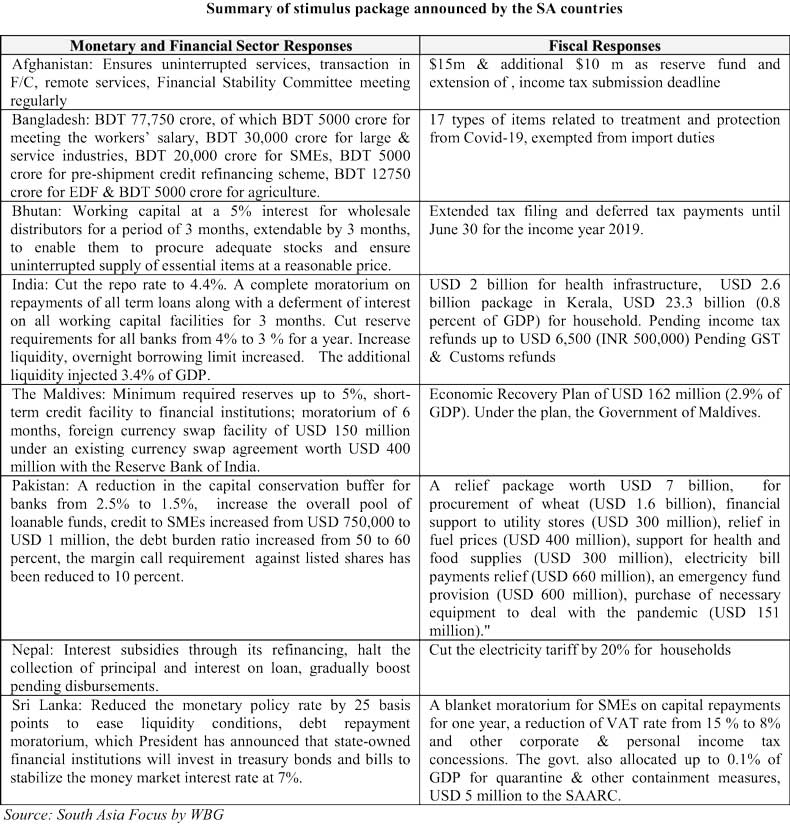 This seems to be a good initiative and an example of regional cooperation. However, after the announcement of the fund, we haven'tseen any further step so far to implement it. All the countries are now busy managing problems of their own, announcing a number of national packages to meet the emergencies.
In the meantime, the South Asia Economic Focus, a publication of the WorldBank,made \GDP growth forecastsfor South Asian countries; for Bangladesh it is a fall from estimated growth of 8.2 per cent in 2019 to 2.0-3.0 per cent in 2020. In 2021,the growth may go further down to 1.2-2.9 per cent and then in 2022 it may start slightly rebounding to 2.8-3.9 per cent.
The GDP growth is forecasted to be minuseach for Pakistan, Sri Lanka, the Maldives and Afghanistan. India's growth rate might be 4.5-5 per cent.
Such prediction is givingan early signal to theSouth Asian nations to take preparations for saving economies from further damage. The post-coronavirus economic situation is unpredictable since a complete shift in economic systemincluding regional and bilateral relations is likely.
The WB report said the country may be affected by a sharp decline in external demand, shock in supply due to bottleneck in global value chain, impact of lockdown on domestic demand affecting employment, stress on consumer and business sentiment, and deepening inequality. South Asia will need enough preparations.
The countries of the region have announced a number of stimulus packages- monetary,financial and fiscal. Some of them are giving direct support for health and safety of the people.
Interest rate cut, tax benefits, social benefits, and safety nets are included in the stimulus packages. Increasing liquidity is an important step to increase cash flow for businesses to continue productive activities. Management and distribution of these fundsare critical since efficiency and accountability would play a big role in ensuring utilisation of money and welfare of people.
Possible decline in GDP will lead to consumption cut because of income fall and apprehensions of job cut. In South Asian countries, agriculture, servicesand industries especially textiles and readymade garments, will see challenges in retaining employment.
Informal Sector Skills Industry Council(ISISC) has said about 20 million people are engaged in jobs in Bangladesh's informal sectors. Because of the fall in demand for daily required services, thesesectors suffer and so does the farm sector. Manufacturing is also disrupted and exports are hard hit for demand shrinkage abroad.
The whole world is passing through adifferent kind of transition and a new economic order is knocking at the door of the global community.No matter whether people like it or not, changes will come. However, a combination of temporary work programmes and moratorium on debt servicing and rent payments can help economies prepare for a restart. In the longrun, South Asia can do well by diversifying its international connectionsas there are ample opportunities to expand digital technologies for payment system and distant learning.
In the past, developing countries and least developed countries (LDC)received supports from developed countries. But since developed countries arealso sufferers at present and busy protecting themselves, foreign funding may be more conditional in the coming days.
In such a context, leaders of the South Asian countries would need to discuss the problems in detail and support each otherwith their own available resources. Digital technologies can be used in creating business opportunities and training technical professionals in the region. The private sector organisations including nongovernmental organisations(NGOs) and civil society organisations can come together for helping in implementing support programmes undertaken by respective governments.
They all would need to identify immediately priority projects,supposed to be funded by public money, and impose a ban on luxury and other cosmetic development projects to reduce costs.Budget preparation and implementation would be the most challenging task this year, due largely to disruption to revenue collection, alongside a series of tax cuts and delayed payments.
A prolonged lockdown has been affecting all domestic economies in South Asia. So, policy framing needs to be handled by capable hands,utilising collective intelligence,and upholding national interests as the highest priority.
FerdausAra Begum is Chief Executive Officer at Business Initiative Leading Development (BUILD).